US focuses on limiting spread amid record bird flu season, but vaccines could be a possibility in the future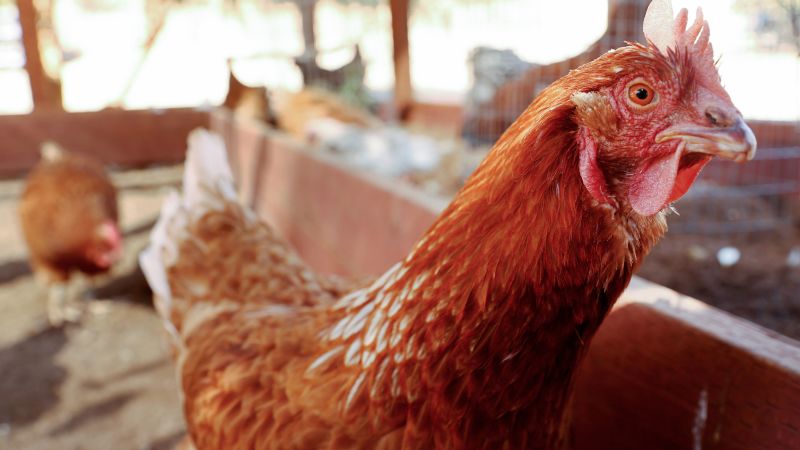 CNN
 — 

The Biden administration is monitoring what experts say is the deadliest outbreak of bird flu that the US has ever seen, and officials are considering a "range of options" on how to respond.
The outbreak is not currently considered a serious threat to human health, according to the US Centers for Disease Control and Prevention.
Globally, there have only been a handful of cases of avian flu in humans, mostly in people who had direct contact with infected birds or with surfaces contaminated with their excretions. There was one human case last year in the United States, a Colorado man who got sick after culling infected birds. He was isolated and treated with an antiviral.
More than 860 total cases of bird flu have been reported among humans in 19 countries since 2003, and more than half of those cases were fatal, according to the CDC.
World Health Organization Director-General Tedros Adhanom Ghebreyesus said in February that the risk to humans still remains low. But given the large number of infected birds, he added, "we cannot assume that will remain the case."
There have been 6,356 cases in wild birds in all 50 states, according to the CDC, but there are probably many more. In 47 states, there have been multiple outbreaks among poultry, involving more than 58.6 million birds. It has also shown up in noncommercial backyard flocks, according to the US Department of Agriculture.
The disease has shown up in other animals in the US, too, including bears, foxes, raccoon, possums, mountain lions, bobcats and even a bottlenose dolphin. As the virus moves through mammals, chances go up that it could mutate and spread more easily among humans.
The CDC is able to watch for the virus in communities through the labs it uses to monitor more typical flu viruses. The agency also told CNN that it is also exploring whether manufacturers might want to make commercial tests for these viruses more broadly available.
The Biden administration said it has also been watching the situation carefully.
"As a part of the administration's focus on addressing any infectious disease with urgency and preparedness, we continue to monitor the avian flu outbreak. There are a range of options the United States regularly considers when there is any outbreak that could affect the security and safety of the United States' food supply," a National Security Council official told CNN.
"Right now, we are focused on promoting and enhancing high-impact biosafety practices and procedures."
Biosafety procedures typically include enhanced disinfection practices for people who work with birds. In November, the CDC recommended that people who interact with birds that look sick – even in backyard flocks – should wear disposable gloves, boots, eye protection and an N95 respirator or a face mask.
"CDC continues to take any threat of infectious disease seriously and assesses the avian flu's current risk to humans as very low. The Department of Agriculture continues to respond quickly whenever the virus is detected among bird populations," the National Security Council official said.
The CDC says the risk assessment tool that it uses to understand a virus' potential as a pandemic risk determined that if these H5N1 viruses were to mutate into a version that could spread easily and efficiently in people, the pandemic risk is "moderate," and the public health impact of such an event also would be of moderate severity.
"This is why it's so important that both the public health and animal health side take precautions to limit exposures among animal species and between animals and people, and thus limit the chances that some type of virus reassortment event that may allow these viruses to infect people easily and spread easily between people," the agency said in an email to CNN.
General precautions include containing animal outbreaks and limiting exposure for the public. That includes avoiding close contact with sick birds, cooking poultry fully and not eating raw eggs.
Another precaution is to take steps toward a vaccine, just in case, and there are efforts under way.
Scott Hensley, a professor of microbiology at the University of Pennsylvania, and colleagues have been working on a vaccine candidate that could be used in humans if the virus started circulating among people.
"We think that the vaccine will elicit very high levels of neutralizing antibodies against this specific strain because it's basically perfectly matched to what's circulating now," Hensley said.
The vaccine seems to work well in the lab, he said, and the researchers plan to test it on chickens this spring.
The CDC says it recently produced a candidate vaccine virus, an influenza virus that manufacturers can use to make a vaccine, that is nearly identical to a viral protein detected in birds and mammals. It could be used to produce a vaccine for people "if needed."
"Such a vaccine would be expected to provide good protections against circulating H5N1 viruses," the CDC said. The agency said it has shared this with vaccine manufacturers.
For years, the Southeast Poultry Research Laboratory, a division of the US Department of Agriculture, has also been working on a vaccine for potential emergency use in animals. There may be an advantage to vaccinating poultry to reduce the chances that the virus could mutate.
Vaccinating poultry against avian flu, is "not something that's really done in our country, but I think it's time to think about that for sure," Hensley said.
Farm animals, including birds, are already vaccinated for other diseases. Chickens, for example, routinely get vaccinated for Marek's disease, which caused by a herpesvirus. They're also vaccinated against Newcastle disease, a respiratory illness; infectious bronchitis; and acute necrotic proventriculitis, a viral disease that affects the immune system.
Avian flu may someday be included in that list, according to a spokesperson for the USDA.
"In the interest of leaving no stone unturned in the fight against (highly pathogenic avian flu), USDA continues to research vaccine options that can protect poultry from this persistent threat," the spokesperson told CNN.
Vaccination, though, is not the first option.
"From vaccine development to production timelines to dissemination to flocks, there are many factors that make implementing a vaccine strategy a challenge, and it would take time to deliver an effective vaccine," the USDA said.
So first and foremost, "we are pursuing collaborative efforts with poultry farmers and companies on education, training, and implementation of comprehensive biosecurity measures. Biosecurity is the best and most prudent approach we have to mitigate the impact of the disease today."
Denial of responsibility! galaxyconcerns is an automatic aggregator around the global media. All the content are available free on Internet. We have just arranged it in one platform for educational purpose only. In each content, the hyperlink to the primary source is specified. All trademarks belong to their rightful owners, all materials to their authors. If you are the owner of the content and do not want us to publish your materials on our website, please contact us by email – [email protected]. The content will be deleted within 24 hours.