Shortly after starting my second full-time position at a major metropolitan newspaper, the newsroom's I.T. department gave me a computer previously used by an editor who worked with me at my prior job. Nobody told me that machine belonged to that editor. I found out because the techs hadn't sufficiently wiped its memory, which is how I came to read an email to that person from my former boss . . . about me. According to her I was a disappointment, lazy and worse. This, from someone who once worked me into a migraine that blinded me in one eye, all for an intern's salary.
The punchline? The email's recipient wasn't even my supervisor.
This wouldn't be the last time that a newsroom manager or a colleague would salt the earth behind me. Based on conversations I've had with other Black journalists, my experience isn't unique. Regardless of how hard we work, some corporate decision-makers think less of us from the start. Nothing we do changes that opinion.
And those people pay us accordingly – which is to say, less than colleagues in equivalent positions – only to disparage us behind our backs.
"She was only hired because she's Black."
"White Noise," the third episode in the latest season of the Apple TV+ series, "The Morning Show" got that part dead right. The fact that UBA's latest technical difficulties deliver a distressing betrayal via email, akin to my situation, is a coincidence. But it's also as validating as all the other Working While Black content surfacing right now.
"The Other Black Girl" and Showtime's "Dreaming Whilst Black" reveal the inner distress of being The Only in a primarily white workplace, a situation most white people never consider and couldn't understand because it's something we talk about.
Black people in semi-public positions experience another point of psychological vulnerability, since some people may not simply question your logic or reporting but, based on your skin color in any photo featured in a publication, whether you took your job from a more deserving white person.
Nicole Beharie's Christina Hunter joined UBA "The Morning Show" in such a situation, although she would never have known this if not for a massive hack that made dozens of email communications and reams of other sensitive information public.
Christina is an Olympic gold medalist turned TV personality who succeeds Reese Witherspoon's Bradley Jackson as their new morning anchor after Bradley moves into the evening news anchor chair. And in the limited story development she's gotten so far, beyond almost taking the place of Alex Levy (Jennifer Aniston) on the Hyperion One space flight, she's taken each small snub in stride.
But one revelation publicized by UBA's right-wing adversary Eagle News isn't something Christina or her bosses can let slide. In a cache of emails provided to UBA, its anchor gleefully tells viewers that in an email between UBA Board President Cybil Reynolds (Holland Taylor) and another hiring manager, Cybil likens Christina to Aunt Jemima.
Holland Taylor in "The Morning Show" (Apple TV+)This drives Christina to do something no sane journalist should ever do, which is read the comments in a subsequent article about it. "She was only hired because she's Black," one reads.
Another says, "She should stick to running." Yet another theorizes she leaked emails. "[C]an't fire her for being bad at her job now."
"The Morning Show" itself – the TV series, not the show within it — is guilty of sidelining its Black and brown characters too.
But the racist insult isn't as offensive as the other information revealed in that email, which is that UBA hired Christina at a lower salary than what they paid Bradley when she first came to the network to do the same job. Remember Bradley was a relative nobody plucked from a small market while Christina, one board member points out, is popular enough to be on cereal boxes.
"Aunt Jemima was on cereal boxes too," Cybil responded, "and no one's buying her anymore."
Viewers raved over Beharie's work in "White Noise," which is certainly excellent, especially in the scene where she simply recoils, wordless, as she takes in the vile digs anonymous commenters get in at her expense. I suspect the raw, honest anger that reddens her eyes comes from a place of knowing and experience.
Ten years ago Beharie was one of the leads on "Sleepy Hollow," a cult favorite whose viewers were only recently made aware of the hell she was put through behind the scenes. By the time she left, she had been smeared by a whisper campaign claiming, among other things, that she had bitten a co-worker.
That gossip circulated widely enough for me to hear it, and it's chronicled in detail in Mo Ryan's "Burn It Down."  That damaging hearsay contributed to slowing down Beharie's career for most of the last decade, until she made an extraordinary comeback in 2020's independent film "Miss Juneteenth."
Watching Beharie cook Christina's dignified stoicism in a low boil of rage throughout this episode is even more satisfying when you know that backstory. Pairing her with Karen Pittman, who plays "Morning Show" producer Mia Jordan, gives us one of the most substantial moments of this season and others before it.
"I never doubted my worth. I just didn't know other people did."
Having said that, "The Morning Show" itself – the TV series, not the show within it — is guilty of sidelining its Black and brown characters too. There's much to appreciate in this honest portrayal of what it's like for non-white reporters to negotiate their second-class status in top newsrooms or the fact that managers of color frequently must work twice as hard as their white counterparts to get a promotion.
Placing these stories in the hands of Beharie and Pittman also reminds us that "Morning Show" viewers primarily see and hear from these women and others when they're featured in a crisis or some other distressing subplot. And it isn't just them.
Desean Terry played weekend anchor Daniel Henderson, who was never featured in any other context but the office and who left UBA after being informed he didn't have enough of an "it" factor to be a star. Gugu Mbatha-Raw was featured in the first season, but mainly in the background until we discovered she was a victim of Steve Carell's Mitch Kessler. She exited the show by way of her character's suicide.
At least in this episode we see that Beharie's Christina has a home life. Three seasons into her tenure on "The Morning Show" Pittman's Mia is seen waking up . . . in the office. The writers also explain why that is within this episode, along with developing Pittman's character and explaining her quiet frustration more than in previous seasons.
Or maybe I'm simply giving this show credit for featuring Pittman more expansively this season than "And Just Like That" even did.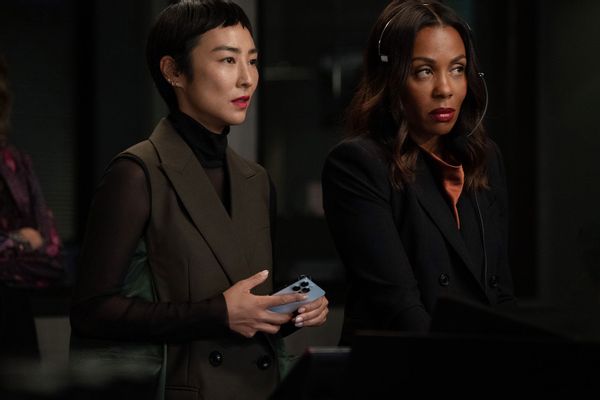 Greta Lee and Karen Pittman in "The Morning Show" (Apple TV+)Mia is nothing like that show's Nya, which isn't necessarily a good thing. The producer is devoted to this loveless marriage of a job for reasons she can't adequately explain beyond offering support to the Black talent and staffers who come and go.
"White Noise" lets us know how thankless of an effort that is. "Don't let Cybil or this whole corporate machine make you doubt your worth," Mia pleads with Chris, who calmly yet tersely replies, "I never doubted my worth. I just didn't know other people did."
There are other traps that even the healthiest newsroom cultures can't always protect their employees from, like the impressions of co-workers or the public that a qualified Black professional stepping into a position previously held by a white person is fulfilling an imaginary quota. Even if a person doesn't have imposter syndrome, confronting such doubt in your colleagues and your manager might infect you with it. Even if you know you have a legal case, "if you sue once," Chris tells her husband, "you are forever the woman who sues."
At least Beharie's character receives more than the actor did, which is an apology and a payout – "ho money" is how Christina describes it. None of it is enough, but it's more than "The Morning Show" support staff is offered. Another document dump from the hackers reveals they're getting lowballed, too.
To prevent a mutiny, Mia and news division president Stella Bak (Greta Lee) call an all-hands that slides into disaster.  
When one staffer says the quiet part out loud – which is that Cory Ellison (Billy Crudup) and Cybil didn't bother showing up because they assumed everyone would "shut the **k up" and remember their place – Christina's fellow anchor Yanko Flores (Nestor Carbonell) derails the conversation in an "All Lives Matter" tarpit.
He asks her why she would "play into the hands of people who want you to see yourself as a victim . . . You don't see how disempowering that is?" Invoking "wokeness" douses this fireside chat.
Accuracy and clarity aren't descriptions typically associated with "The Morning Show" in a decent episode. Here, however, they are keen, sharp knives cutting through the leathery bull of corporate diversity claims to reveal the terms of the game and the toll playing it takes on those who agree to enter the arena. It would be maddening, a downer of an episode, if not for its cathartic resolution – which, again, is brought about in a way that makes Aniston's Alex a hero.
Cory, anxious to "move past" this reputation-blackening incident, agrees to allow Cybil to sit down with Alex on her streaming show to come clean about the allegations. But once Alex talks to UBA's beldame, whose grandfather founded the network and simply wants all of it to go away, she realizes the right interviewer isn't her. It's Chris.
---
Want a daily wrap-up of all the news and commentary Salon has to offer? Subscribe to our morning newsletter, Crash Course.
---
As Cybil ventures closer to the interview, she's more contrite and nervous while also insisting she was thrilled to hire her, despite Chris' inexperience. Green or not, Chris calmly walks Cybil into a corner with Mia's assistance, following a barrage of prevarication: "In the interest of transparency, was I hired for a permanent anchor position because I am black?"
"Obviously not, no!" Cybil babbles.
"But you see my confusion, right? Because you used a clumsy, racist comment to complain about my hiring. Did you think I wasn't qualified? Was that it?"
From there, Chris simply glides by Cybil and makes her eat her dust. Cybil admits she didn't think she was qualified – or to rephrase, was untested. From there Chris regales her with the stats – she was Q-tested more than any other person who has ever anchored the show. There were strategy sessions about her hair, and she spent her weekends working with former anchors to hone her on-air skills.
"That aside, I don't understand why you used a racialized image when discussing me. Is that how you see me? Is that . . . how you see us?" Chris keeps on firing. On Cybil's watch, she says, she allowed employees of color to be systematically devalued. Mia instructs the camera to push in on Cybil, "and keep pushing until I see her pores." Cybil then uses the phrase that is her undoing, telling Chris she should be grateful to be in her position, and that she wishes everyone would just move on from "this climate where racial divisions are exploited."
Beharie twists Christina's expression into a quizzical look. "But that's every climate, wouldn't you say? . . . But yes, we will move on from institutional racism right after this break."
The camera cuts to a commercial, and Chris stalks off the set without once looking back at Cybil, who knows she's headed to a vote of no confidence from the UBA board. Chris takes her husband's hand and walks out the studio's door to prep for the next battle, better armed this time.
"The Morning Show" streams new episodes Wednesday on Apple TV+. 
Read more
about "The Morning Show"
Denial of responsibility! galaxyconcerns is an automatic aggregator around the global media. All the content are available free on Internet. We have just arranged it in one platform for educational purpose only. In each content, the hyperlink to the primary source is specified. All trademarks belong to their rightful owners, all materials to their authors. If you are the owner of the content and do not want us to publish your materials on our website, please contact us by email – [email protected]. The content will be deleted within 24 hours.