When Nick Kyrgios and his long-time physiotherapist, Will Maher, announced the 27-year-old's withdrawal from the Australian Open, Maher provided some detailed insight into the injury causing the trouble.
"There's a parameniscal cyst growing in his left meniscus," Maher told a press conference, "which is the result of a small tear in his lateral meniscus. We used the charity event against Novak [Djokovic] as a gauge to see if he could compete at that highest level. He didn't pull up great.
"We've made the sensible decision to withdraw him."
A torn meniscus is one of the most common knee injuries, even among non-athletes, but meniscal cysts are rarer. So, what is Kyrgios's injury, how did he develop a cyst, and how can it be treated?
What is a meniscus, and how does it tear?
The meniscus is a crescent-shaped piece of white, rubbery cartilage that provides cushioning and stability to the knee joint. Each knee has two menisci: the medial meniscus on the inner side of the knee and the lateral meniscus on the outer side, which is the one troubling Kyrgios. They sit around the perimeter of where the femur (thighbone) meets the tibia (shinbone), and act as shock absorbers, distributing weight evenly across the knee joint.
A tear can occur when the soft meniscus gets caught in the contact point between the two bones. Sports physician and former NRL player Nathan Gibbs says the injury is common in sports such as tennis which involve twisting, turning and lateral movements at high speed.
"If the soft meniscus slips into the contact point between the femur and tibia … the bone just rips it apart," he says. "Anyone who's doing high-speed agility, jumping, landing, twisting movements, every now and then there will be a risk that the meniscus will just not get out of the way of the contact point, and it gets smashed."
Once the meniscus is torn, there can be a part of it that is loose and flaps inward and outward.
"That's a scenario where you can be running around and if it suddenly slips inward between the contact point of the bones you get sharp, excruciating pain which can drop you to the ground sometimes," Gibbs says. "A torn meniscus invariably makes it very hard to continue playing high-level sport." Meniscus injuries can happen more frequently with age as the cartilage deteriorates.
What is a parameniscal cyst then?
A liquid called synovial fluid lubricates the body's joints including the knee. Orthopaedic surgeon Jonathan Herald, who has treated some of Australia's best-known athletes, says meniscal tears can act like a "one-way valve", allowing synovial fluid to escape from inside the knee but not allowing it to flow back in.
This can cause a cyst – a sac containing fluid or semi-solid material – to develop on the outside of the meniscus.
This is what Maher was talking about when he referred to a "parameniscal cyst" in Kyrgios' knee. He said the issue had become a real problem only in the past fortnight. "These things can exist for some time and be quite happily not a problem," he said. "It's when they start to become bigger that they become a problem. That's what was happening in this situation."
While meniscal tears are common, cysts are far less common, occurring in only about 5 per cent of cases, says Herald.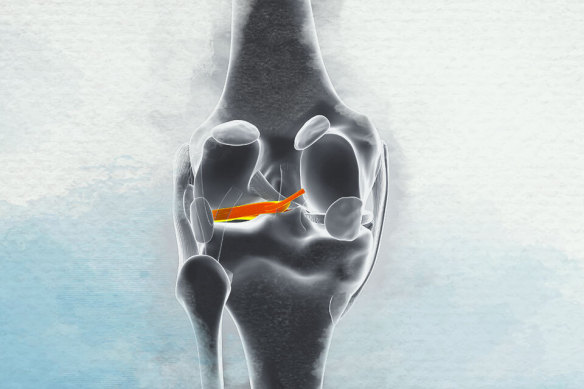 How is it treated?
In a bid to recover in time for the Australian Open, Kyrgios had a procedure called fenestration and drainage, where they use a syringe to suck fluid from the cyst. Kyrgios posted to Instagram photos of the fluid that had been pulled from his knee.
"Keep in mind, sucking the fluid out, anti-inflammatory tablets, all these things are temporary relief," says Herald. "If you return back to the high-level lifestyle that he's doing – running, jumping, pivoting and high-impact type stuff – that might come back again."
Kyrgios is expected to have surgery in Canberra on Monday. "He'll go back to Canberra at the end of the week," said Maher. "He'll have an arthroscopic procedure to clean up his lateral meniscus and remove the parameniscal cyst."
How long is the recovery?
A small keyhole operation such as this typically requires a day procedure, Herald says. Maher says Kyrgios would face a fairly straightforward recovery through February.
"It won't interrupt his year tremendously," said Maher, "despite the fact it's a great disappointment to withdraw from the Australian Open home slam, it's not a significant injury in the sense that it's going to be career-threatening or anything like that."
Why did Kyrgios choose to pull out now?
Kyrgios says he made the call to pull out after a practice hit with his doubles partner, Thanasi Kokkinakis, on Monday.
"He pushed me around the court a little bit, and that was more of a realistic [indication] of the intensity that was coming."
Loading
Just hours before his shock withdrawal, Maher asked Kyrgios if he thought he could get through seven matches in the next two weeks. Kyrgios said no, and Maher's response was clear: "Then you're out."
Fascinating answers to perplexing questions delivered to your inbox every week. Sign up to get our Explainer newsletter here.
Denial of responsibility! galaxyconcerns is an automatic aggregator around the global media. All the content are available free on Internet. We have just arranged it in one platform for educational purpose only. In each content, the hyperlink to the primary source is specified. All trademarks belong to their rightful owners, all materials to their authors. If you are the owner of the content and do not want us to publish your materials on our website, please contact us by email – [email protected]. The content will be deleted within 24 hours.