A handbag or dress can provide more information about a person than any police background check or social media deep dive. Indeed, as far back as the 1500s, the Renaissance influencer Erasmus declared that clothes make the man, failing to take into account the enormous work they also do for women. To be fair, this was five centuries before the Balenciaga logo was introduced to the world by the Kardashian family.
Clothes not only make the woman, they describe her. Whether you're dripping in luxury labels or wearing a plain sweater unearthed at a market, you're sending clear signals about your interests, aspirations and pending membership to the latest fashion tribe.
In the '60s, it was mods, hippies and squares, while the '80s gave us preppies, metal heads and club kids. Throw beauty queens, punks, grunge and disco into the mix and you can see that there are more clubs than in the AFL and NRL combined. Today, the streets are filled with teens dabbling in gothcore, Barbie pinks and corset clubwear. However, youth culture is no longer ground zero for fashion tribes, which currently span from teenagers to the style ceiling of the 101-year-old walking colour chart, Iris Apfel.
Here's your spotter's guide to the most recognisable tribes of 2023.
The New Bohemian
The bigger the sleeve, or skirt, the closer The New Bohemian is to happiness. From beneath a sea of ruffles and layers, these fans of ultra-feminine silhouettes will twirl like a five-year-old in a costume of Elsa from Frozen. This descendant of boho chic and peasant dressing looks equally at home carrying a basket of peonies in the country as sitting in an inner-city cafe picking at their avocado on gluten-free toast.
Everything about The New Bohemian, from their beachside address to their sun-kissed highlights, suggests a casual carefree attitude – but steaming the creases out of a tiered cotton skirt takes dedication. And those sun highlights require four hours in the salon chair.
Loading
The New Bohemian has nothing to hide and will signal their evolution from the trend's boho past by using strategic cut-outs and crops.
Spotted at Outdoor weddings and rooftop bars.
Overheard "It's pronounced 'eyg'."
Role models Rachel Zoe, Sienna Miller, Zoë Kravitz, Tracee Ellis Ross.
The labels Aje, Alémais, Chloé, Isabel Marant, Zimmermann.
The Cocktail Bar Athlete
The outfit suggests they're on their way to the gym but that perfect high-ponytail, smear of mascara and Valentino one-stud bag will throw you off the scent – especially since they smell like Le Labo "Santal 33" instead of sweat.
The Cocktail Bar Athlete knows that few things in life are as flattering as workout tights that perform crucial cinching and smoothing without stretching into a downward dog. They've given up caring that their gym membership expired during the COVID-19 lockdowns, wearing workout gear layered with luxury blazers, designer sunglasses and leather handbags for power lunches instead of power walks. To separate themselves from actual athletes, sneakers have been replaced with stilettos and there might be a vape tucked into the waistband of those tights.
Spotted at Anywhere without exercise equipment and a running track.
Overheard "I actually wear tracksuit pants to Pilates."
Role models Pip Edwards, Kim and Khloé Kardashian, Gisele Bündchen.
The labels Skims, P. E Nation, Jag
The Curator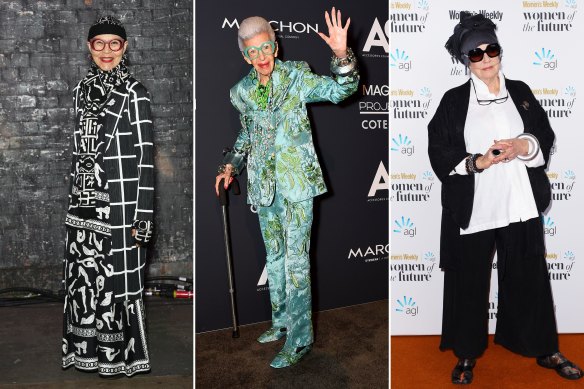 Tired of hanging around galleries, waiting for someone to quiz them about Frida Kahlo's self-portraits and the salacious footnotes in The Andy Warhol Diaries, artistic types have taken to the streets in wearable canvases. The Curator is easy to spot in the wild, thanks to statement glasses more colourful than those of their ancestral predecessor, The Off-Duty Architect. These glasses are usually perched beneath a directional hairstyle and above a print with a colour combination that could strobe at any given moment.
Silhouettes are generous enough to give prints plenty of real estate for a strong impact, and The Curator will make sure you see their ironed work of art from every angle. The final touch is jewellery, either purchased from Dinosaur Designs or a regional gallery, or made from found objects sourced from a beach near Byron Bay.
Spotted at The Archibald Prize and assorted writers' festivals.
Overheard "I miss seeing Lee Lin Chin read the news."
Role models Catherine Martin, Iris Apfel, Wendy Whiteley, Del Kathryn Barton, Jenny Kee.
The labels Dinosaur Designs, Gorman, Akira, Ginger & Smart, Elk, Romance Was Born.
The Walking Billboard
When Gucci started making jackets with gigantic labels on the sleeve, Walking Billboards finally felt seen – which is the whole point of their wardrobe. Logo-laden sweaters, handbags with gigantic monograms, and instantly recognisable silhouettes from Chanel and Bottega Veneta are the sparkling signals these shoppers need to unleash their credit cards.
Stealth wealth dressing is overrated for Walking Billboards. What's the point of buying a four-figure handbag if people don't know where it's from?
It makes no difference whether it's old money or new money, as long as people can tell that you spent a significant amount of the stuff on your wardrobe.
Don't mistake all Walking Billboards for pampered princesses; many wear their Birkin bags as badges of corporate or creative success. If you've got it and you made it, then flaunt it.
Spotted on The red carpet, or near a reflective surface or phone charger.
Overheard "But will people be able to tell it's from this season?"
Role models Bella Hadid, Hailey Bieber, Kim Kardashian.
The labels Balenciaga, Gucci, Louis Vuitton, Chanel, Hermès, Versace.
The Ethicist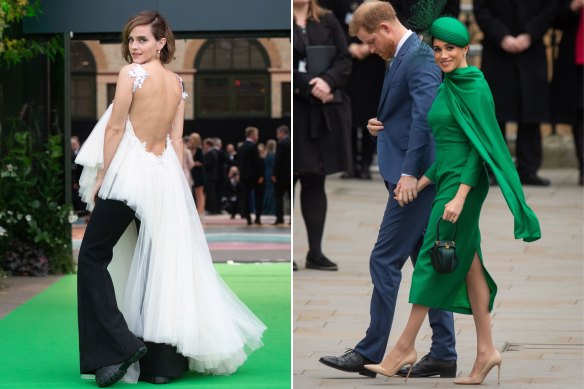 Some people protest against climate change by glueing their hands to artworks or chaining themselves to trees but that type of behaviour is guaranteed to wrinkle your favourite linen suit. Ethicists know that wearing labels sourced from sustainable materials showcases your support for Mother Earth without getting your hands dirty.
However, there's no need to restrict your palette to demonstrate your green credentials. The oversized dot on a Bassike T-shirt, gathered waist of KitX dress or "V" symbol on Veja sneakers, made from recycled plastic and polyester, offer a stylish step up from a Greenpeace T-shirt, Birkenstocks and a canvas tote bag. To the untrained eye, the eco-benefits of The Ethicist's ensemble can go unnoticed but expect them to bring you up to speed on the planet-first approach of their hemp skirt by the second glass of organic wine.
Loading
Spotted at Farmers' markets, protest marches and while buying carbon offsets from the comfort of a business-class airport lounge.
Overheard "Mushroom is the new pineapple when it comes to leather."
Role models Emma Watson, Meghan Markle, Olivia Wilde, Greta Thunberg.
The labels Bassike, KitX, Joslin, Lee Mathews, Stella McCartney.
Make the most of your health, relationships, fitness and nutrition with our Live Well newsletter. Get it in your inbox every Monday.
Denial of responsibility! galaxyconcerns is an automatic aggregator around the global media. All the content are available free on Internet. We have just arranged it in one platform for educational purpose only. In each content, the hyperlink to the primary source is specified. All trademarks belong to their rightful owners, all materials to their authors. If you are the owner of the content and do not want us to publish your materials on our website, please contact us by email – [email protected]. The content will be deleted within 24 hours.