CNN
 — 

Former President Donald Trump on Monday was criminally charged for the fourth time this year in a sweeping Georgia indictment accusing him of being the head of a "criminal enterprise" to overturn the 2020 election.
The indictment from Fulton County District Attorney Fani Willis included 18 defendants in addition to Trump, 41 charges in total and 30 unindicted co-conspirators. It marks a key departure from special counsel Jack Smith's charges against Trump for election subversion. Smith had only charged the former president in his indictment earlier this month, even as he listed six co-conspirators.
Willis' indictment also went well beyond what transpired in Georgia as she used racketeering violations to charge a broad criminal conspiracy.
The 19 defendants have until next Friday, August 25, to voluntarily surrender, Willis told reporters late Monday night. Even as Willis is previewing a push for quick turnaround to trial, she said – in response to a question from CNN's Sara Murray – that she plans to try the 19 defendants together.
Here are the takeaways from the Georgia indictment:
After the Georgia indictment, Trump is now facing four separate indictments at the same time that he's running for president in 2024.
The charging document in Georgia unsealed Monday offers a sweeping indictment of Trump's conduct after the election, documenting a breathtaking number of ways that Trump tried to overturn his election loss to Joe Biden.
The document includes Trump's infamous phone call with Georgia Secretary of State Brad Raffensperger when he asked Raffensperger to "find" the votes he needed to win the state, the fake elector scheme and a September 2021 letter he sent to Raffensperger again urging him to decertify the state's 2020 vote.
Trump's attorneys slammed the indictment, saying in a statement that the grand jury presentation was "one sided" and the events of Monday "shocking and absurd."
Still, the total number of criminal charges against Trump across the cases he's facing is staggering: He's facing 91 charges across the four indictments in all.
The sweeping racketeering charge that Trump and 18 others now face outlines dozens of alleged criminal actions related to their efforts after the 2020 election and attempts to cover up those actions.
The charge, a violation of the Georgia Racketeer Influenced and Corrupt Organizations Act, or RICO, acts as an umbrella over several allegedly criminal actions the group took to advance their so-called enterprise.
Legal analyst: RICO charge puts Trump at odds with his counsel
Willis alleged that the 19 co-defendants "engaged in a criminal racketeering enterprise to overturn Georgia's presidential election result."
In addition, the indictment cited 30 unindicted co-conspirators who participated in the enterprise.
Prosecutors say the criminal actions the charge is built around include: making false statements, filing false documents and forgeries, impersonating officials, computer breaches and attempts to influence witnesses.
Major events that built the case include how Trump's team allegedly misled state officials in Georgia, organized fake electors, harassed election worker Ruby Freeman and breached election equipment in a rural Georgia County.
Several of the acts alleged to have made up the racketeering conspiracy involved states other than Georgia. At Monday's late night press conference, Willis explained that the grand jury saw the out-of-state conduct highlighted in the indictment as being part of the plot to overturn Georgia's 2020 results.
Among the 161 alleged acts that indictment alleges were done in furtherance of the alleged conspiracy to reverse Trump's electoral loss were the several episodes of outreach from Trump and his advisers to state legislators in Pennsylvania, Michigan and Arizona. The indictment also highlighted the effort to organize fake electors in Wisconsin, Arizona and other states, in addition to the coordination of an alternative slate of electors in Georgia.
The pressure campaign on Vice President Mike Pence to disrupt Congress' certification of the 2020 results also plays a large role in the indictment.
The Georgia indictment marked the first time that two of Trump's top lieutenants supporting his efforts to overturn the 2020 election – former White House chief of staff Mark Meadows and former lawyer Rudy Giuliani – are facing charges related to election subversion.
Meadows is the only other White House official than Trump among the 19 defendants listed in Monday's indictment, while Giuliani has the most charges – 13 counts – of any defendant besides Trump himself, who is also facing 13 counts.
Both Meadows and Giuliani played key roles in Trump's multi-pronged efforts to overturn the election. Text messages Meadows turned over to the House select committee that investigated the January 6 US Capitol attack show how he allegedly coordinated numerous efforts by Trump's allies to spread baseless claims of election fraud.
Meadows is also charged in connection with his role in Trump's phone call with Raffensperger.
Giuliani – who was listed in the special counsel's indictment as a co-conspirator, unlike Meadows – was charged on Monday with soliciting Georgia state lawmakers, making false statements to the Georgia House and Senate and the effort to put forward fake electors in Georgia.
Trump's legal calendar is packed as the 2024 GOP nomination campaign gets into high gear. But there's more overlap with the federal special counsel probe than just Trump.
Some of the 18 defendants overlap with the Trump allies who are referenced to as unindicted co-conspirators in Smith's case; they are seen as still being in jeopardy for federal criminal charges given that Smith's probe remains ongoing and he may ultimately charge other individuals as well.
But even among the Fulton County defendants who don't end up facing federal criminal charges, there stands to be some crossover in evidence – especially in the form of witness testimony – that may pose challenges for the dueling prosecutions.
Once one of the cases goes to trial, any witness that testifies in that case will be locked in for their testimony in the other – or otherwise facing the risk of perjury.
Willis said Monday night that she will be seeking a schedule that would start the trial within the next six months.
Smith proposed a similar timeline – however, for a case that involves one defendant instead of 19. He is seeking that the federal election subversion case against Trump go to trial on January 2, 2024, with jury selection occurring in December.
Several of former Trump's co-defendants in the indictment are facing charges in connection with the breach of a voting system in rural Coffee County, Georgia, that took place after the 2020 election.
The breach was one of the key events that transpired in Georgia cited in the indictment unsealed on Monday. CNN has previously reported that multiple of the newly indicted co-defendants helped orchestrate and carry out the breach.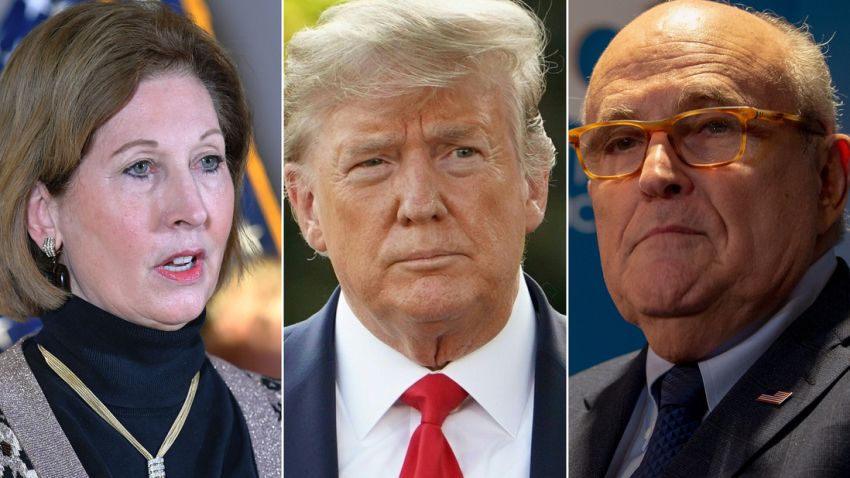 'What were they thinking?': Ex-US attorney reacts to new revelations in voting system breach
The indictment alleged that for several Trump allies committed specific crimes related to their involvement in the Coffee County breach, as well as allegedly lying about their roles. Those charges include computer trespassing, perjury, conspiracy to commit election fraud and conspiracy to commit computer theft, the indictment states.
The people charged in connection with the Coffee County breach are: Sidney Powell, a former Trump attorney; Misty Hampton, a former elections supervisor for Coffee County; Cathy Latham, a former local GOP official in Coffee County; and Scott Hall, a pro-Trump poll watcher and bail bondsman in Georgia.
Denial of responsibility! galaxyconcerns is an automatic aggregator around the global media. All the content are available free on Internet. We have just arranged it in one platform for educational purpose only. In each content, the hyperlink to the primary source is specified. All trademarks belong to their rightful owners, all materials to their authors. If you are the owner of the content and do not want us to publish your materials on our website, please contact us by email – [email protected]. The content will be deleted within 24 hours.