Steph Claire Smith and Laura Henshaw wouldn't have been friends in high school. For long-time followers of the Keep It Cleaner (now known as KIC) co-founders, arguably as well known for their friendship as for their business success, this revelation might come as a shock.
"I was a bit cheeky at school," says Smith. "Laura was a little bit less rebellious, in the library, doing the right thing – a teacher's pet. I was
the opposite of that."
Now, it's hard to imagine a time when the two weren't joined at the hip. The intimacy of friendship is often underestimated, but as anyone lucky enough to have first-hand experience with it will agree, the comfort that exists between best friends is impossible to replicate. This closeness is obvious between Smith and Henshaw.
Sitting on a patch of grass outside Maroubra's surf life saving club, legs crossed and surrounded by overnight bags (Smith and Henshaw are due to fly back to Melbourne, where they both live, in just a few hours), from a distance, the three of us could look like gossiping schoolgirls. Today also happens to be Henshaw's 30th birthday – an occasion she insists she's thrilled to be celebrating in Sydney, at the beach with her best friend, despite the fact that, technically at least, she's working.
At its heart, KIC is a health and wellness brand. Its intention, according to Henshaw, is to help people lead a healthier and happier life in a way that works for them. It's a message that clearly resonates. Since its conception in 2015, there's been an app, two podcasts, merch and, soon, their latest book You Take Care, filled with lessons in looking after yourself. With Henshaw as the company's CEO and Smith as COO, the KIC brand has gone from strength to strength. And it all started with a chance encounter.
Smith, who recently turned 29, explains that they met while modelling at Melbourne Spring Fashion Week, not long after finishing high school. Cast in many of the same shows, they spent a lot of time backstage during the week and eventually got chatting.
"It was my first time modelling," says Henshaw. "I had to have walking lessons because I was so bad. I didn't know anyone, but then I met Steph. And we just got along so well. I was very drawn to her confidence."
They stayed in touch, eventually introducing each other to their friends outside the modelling industry.
"When my closest girlfriends, who I've known since year 7, met Laura, they were like, 'She's too nice, there must be something wrong with her,' " says Smith. "But it turns out she's just an angel. It was one of those friendships where you meet and feel like you've known each other a really long time."
Loading
Just as Henshaw was initially drawn to Smith's confidence, Smith admired Henshaw's kindness and empathy. After a decade of friendship, the two still deeply value these same traits in one another, though Smith now lists Henshaw's sense of humour as one of her top qualities, and Henshaw can't help but mention how caring Smith is. They're both happy to admit they've become more similar over the years.
"I feel like we've met each other halfway," says Smith. "Even when I think back on our fashion sense when we first became friends, we couldn't have been more different. Now, we could easily share each other's wardrobes."
"When you spend so much time with someone, you almost start merging into one another," says Henshaw, before acknowledging that their energy levels have always been very different. And despite all they've done and achieved together – from getting engaged to their now-husbands within weeks of one another to being each other's maid of honour – Smith never quite managed to get Henshaw to a multi-day music festival.
Early in their friendship, the two went their separate ways with Henshaw heading to Europe and Smith relocating to the US to pursue modelling. They kept in touch and eventually shared that they were both struggling with issues around body image.
"I opened up to Laura about my struggles before I opened up to my mum, my best friends from high school or even my partner."

STEPH CLAIRE SMITH, KIC CO-FOUNDER
"I opened up to Laura about my struggles before I opened up to my mum, my best friends from high school or even my partner," says Smith, who has since spoken publicly about her experience with disordered eating. "When you know someone's gone through something – or you have a feeling they can relate – you feel like you can tell them anything."
Says Henshaw, "When you have a poor relationship with food or exercise, it's often really controlling and can mean you disconnect from the world a bit – like we both did."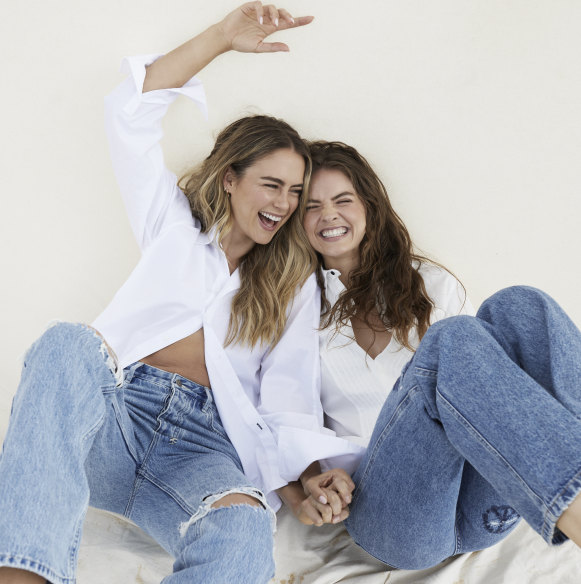 Despite being on different continents, the pair's shared vulnerability helped them on the path to recovery. It also jump-started KIC. What began as an e-book of healthy recipes, released in 2015, evolved into the operation many of us know today, with the app launching in October 2018.
"We wanted to take things back to basics," says Smith, talking about the development of the brand. "Looking at food as fuel, but also as something to enjoy. And movement as something you should celebrate."
But launching KIC wasn't just the beginning of a business that would grow to have 2.1 million followers, and active subscribers from over 120 countries, it was also a moment that revealed the true potential of the pair's friendship and the power of shared goals. "We never set off for KIC to be this huge business venture, but once things started getting more serious we needed to be able to have super-open conversations with one another," says Smith, who ranked 100th on the Financial Review Young Rich List in 2021, with an estimated net worth of $36 million.
This value of honest communication is something Smith and Henshaw find themselves returning to again and again – not just within their own friendship, but also within the relationships they have with their colleagues and the wider KIC community. The idea that openness and vulnerability is key to success touches everything they do.
Loading
Within their 16-person team, the pair prioritise having hard discussions in person rather than via Slack or Zoom, comparing the scenario to catching up with a friend for coffee to talk out a disagreement instead of trying to figure things out over text.
The Facebook "KIC Community" group has more than 47,000 members. On any given day, it's filled with posts ranging from mid-run selfies to laundry detergent recommendations to plans to meet other members for coffee and a walk. The conversations read as if they're happening between close friends, not strangers – and none of it has happened by accident.
Along with mind and body, connection is one of the core themes explored in You Take Care, which makes sense if you've spent any time inside the KIC community or have listened to the KICPOD podcast, which hit a milestone of six million downloads in February 2022. Smith and Henshaw have built their brand on connection, which makes it surprising to hear that at one point they neglected their own.
"There was a time where we weren't maintaining our friendship properly," says Henshaw, looking at Smith, who nods in agreement.
"We'd find ourselves out for dinner and all we would do was talk about work," says Smith.
The solution has been to actively schedule time together outside work to focus on their friendship. It takes dedication, especially since Smith gave birth to her son, Harvey, in early 2021. "A lot of my friendships have changed since becoming a mum," says Smith. "But you can still have that quality time if you work on it."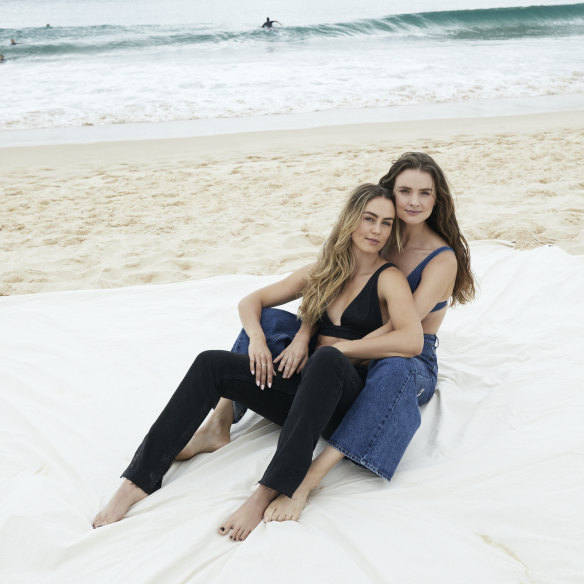 As business owners, influencers and best friends, it's unsurprising that Smith and Henshaw have struggled with the different labels and personas they both navigate on a daily basis.
Loading
For Henshaw, being the CEO of a tech firm has, at times, felt misaligned to the version of herself that shines through on the podcast and Instagram, where's she known for being light-hearted and empathetic, though it's something she's working to overcome.
"I've got a lot more comfortable with the fact that we can be more than one thing," she says. "I tried to stay away from talking about something silly on the podcast or posting silly videos for quite some time, but now I realise that if people are going to define us by just one thing we do, well, that's on them."
And for Smith, becoming a parent hasn't diminished the passion she has for her business. In her own words, she now has two big loves in her life: KIC and her family. "Being a mum is just another hat I wear, another extension of me," she says. "It fulfils me so much, but at the same time, it's not all that I am."
"Now I realise that if people are going to define us by just one thing we do, well, that's on them."

LAURA HENSHAW, KIC CO-FOUNDER
As they prepare for You Take Care to hit shelves, Smith and Henshaw can't help but reflect not only on how far they've come, but also on how they've relied on each other along the way.
"I don't think either of us could really imagine going through the journey we have on our own," says Smith. "There have been so many hurdles along the way and moments where one of us has doubted ourselves, but the other's always there to pick us right back up."
Fashion editor, Pennyy McCarthy; Hair, Brad Mullins; Make-up, Cat Smith; Fashion assistant, Emmerson Conrad
If you or anyone you know needs help or support for an eating disorder or concerns about body image, call Butterfly Foundation National Helpline on 1800 334 673
You Take Care (Murdoch Books) by Laura Henshaw and Steph Claire Smith is out now.
Make the most of your health, relationships, fitness and nutrition with our Live Well newsletter. Get it in your inbox every Monday.
Denial of responsibility! galaxyconcerns is an automatic aggregator around the global media. All the content are available free on Internet. We have just arranged it in one platform for educational purpose only. In each content, the hyperlink to the primary source is specified. All trademarks belong to their rightful owners, all materials to their authors. If you are the owner of the content and do not want us to publish your materials on our website, please contact us by email – [email protected]. The content will be deleted within 24 hours.