Now George R.R. Martin, John Grisham and other writers sue OpenAI for alleged copyright infringement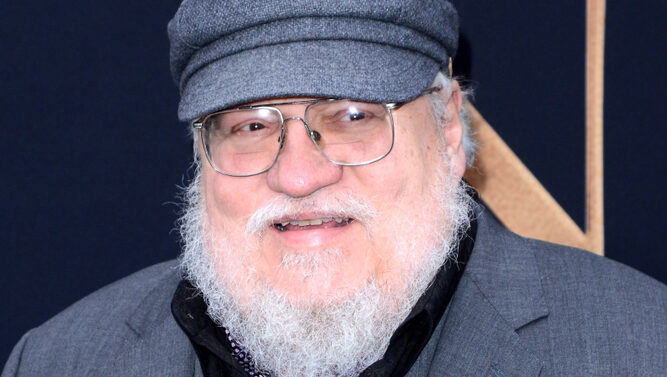 The copyright infringement lawsuits being brought by professional writers against ChatGPT maker OpenAI are really beginning to accumulate.
In June, Sarah Silverman – a comedian and author of the 2010 book The Bedwetter – sued OpenAI, alongside two other writers, accusing the AI company of infringing her rights by using her works to train its "GPT" AI algorithms.
(Silverman and the two other writers – Christopher Golden and Richard Kadrey – filed a similar lawsuit against Facebook and Instagram owner Meta, over that company's LLaMa AI algorithm.)
Earlier this month, four other writers – Michael Chabon, David Henry Hwang, Rachel Louise Snyder and Ayelet Waldman – filed another suit against OpenAI over the "unauthorized and illegal use" of their works.
These lawsuits are being closely watched by legal experts, not only because of the potential implications for the book publishing business, but because of the implications for all businesses that revolve around intellectual property, including music, as courts determine whether or not the unauthorized use of copyrighted works in training AI algorithms amounts to infringement.
Now, OpenAI faces yet another copyright infringement suit – this one brought by the Authors Guild, which represents 9,000 professional writers in the United States.
Joining the guild are 17 of its members, including George R.R. Martin of Game of Thrones fame, bestselling author David Baldacci (The Collectors, One Good Deed), John Grisham (whose works have been adapted into movies such as The Pelican Brief and The Firm), Scott Turow (Presumed Innocent, Testimony) and award-winning authors Jodi Picoult (My Sister's Keeper, Nineteen Minutes) and Jonathan Franzen (Freedom, The Corrections).
In a complaint filed with the US District Court for the Southern District of New York on Tuesday (September 19), the guild and authors alleged that OpenAI "copied plaintiffs' works wholesale, without permission or consideration."
OpenAI then fed these texts into its large language model (LLM) algorithms, the lawsuit states.
"These algorithms are at the heart of defendants' massive commercial enterprise. And at the heart of these algorithms is systematic theft on a mass scale," stated the complaint, which can be read in full here.
The complaint seeks class-action status for the lawsuit, saying there are potentially "thousands" of writers who could qualify to take part in the legal action.
The case makes a similar – but not identical – argument to the one in Silverman's suit, arguing that OpenAI's ChatGPT chatbot creates copyright-protected "derivative works" when it produces "material that is based on, mimics, summarizes, or paraphrases plaintiffs' works."
"Defendants could have 'trained' their LLMs on works in the public domain. They could have paid a reasonable licensing fee to use copyrighted works."

Legal complaint against OpenAI on behalf of Authors Guild
However, unlike the Silverman suit, the new complaint focuses heavily on the alleged economic damage done to writers by AI algorithms that are trained on their work.
"These authors' livelihoods derive from the works they create. But defendants' LLMs endanger fiction writers' ability to make a living, in that the LLMs allow anyone to generate – automatically and freely (or very cheaply) – texts that they would otherwise pay writers to create," the complaint states.
It states that "businesses are sprouting up to sell prompts that allow users to enter the world of an author's books and create derivative stories within that world. For example, a business called Socialdraft offers long prompts that lead ChatGPT to engage in "conversations" with popular fiction authors like plaintiff Grisham, plaintiff Martin, Margaret Atwood, Dan Brown, and others about their works."
Additionally, "ChatGPT is being used to generate low-quality ebooks, impersonating authors, and displacing human-authored books. For example, author Jane Friedman discovered 'a cache of garbage books' written under her name for sale on Amazon," the complaint states.
Friedman made such an allegation last month, telling media that "it was just obvious to me that it had been mostly, if not entirely, AI-generated."
The complaint adds that OpenAI "could have 'trained' their LLMs on works in the public domain. They could have paid a reasonable licensing fee to use copyrighted works."
The complaint alleges that, until recently, "ChatGPT could be prompted to return quotations of text from copyrighted books with a good degree of accuracy, suggesting that the underlying LLM must have ingested these books in their entireties during its 'training.'
"Now, however, ChatGPT generally responds to such prompts with the statement, 'I can't provide verbatim excerpts from copyrighted texts.' Thus, while ChatGPT previously provided such excerpts and in principle retains the capacity to do so, it has been restrained from doing so, if only temporarily, by its programmers."
ChatGPT now offers summaries of copyrighted works, the complaint states, but "these summaries are themselves derivative works, the creation of which is inherently based on the original unlawfully copied work."
---
That is a claim that OpenAI appears to be disputing. In a response to the Silverman lawsuit, lawyers for OpenAI argued earlier this month that the fact that ChatGPT was able to offer accurate summaries of the authors' copyrighted books doesn't amount to copyright infringement.
They argued that a summary doesn't meet the "substantial similarity" test that courts have created – that is, a summary of a book isn't "substantially similar" to the book itself.
In that response – a motion to dismiss most of the charges brought against OpenAI in the Silverman suit – OpenAI's lawyers also argued that courts have previously ruled that it isn't copyright infringement to use a copyrighted work to create a new and unrelated product – which they assert is what OpenAI's ChatGPT is doing.
They also note that ChatGPT doesn't make copyrighted works publicly available, which they argue further weakens the case that use of copyrighted works amounts to infringement.
Along with class-action status, the latest lawsuit seeks "an award of actual damages to plaintiffs and class members;" the profits made by OpenAI that can be attributed to the alleged infringement; and attorneys' fees and court costs, plus interest.Music Business Worldwide
Denial of responsibility! galaxyconcerns is an automatic aggregator around the global media. All the content are available free on Internet. We have just arranged it in one platform for educational purpose only. In each content, the hyperlink to the primary source is specified. All trademarks belong to their rightful owners, all materials to their authors. If you are the owner of the content and do not want us to publish your materials on our website, please contact us by email – [email protected]. The content will be deleted within 24 hours.