Netanyahu condemns Iran in speech, hopes for peace with Saudi Arabia on day 4 of the UN General Assembly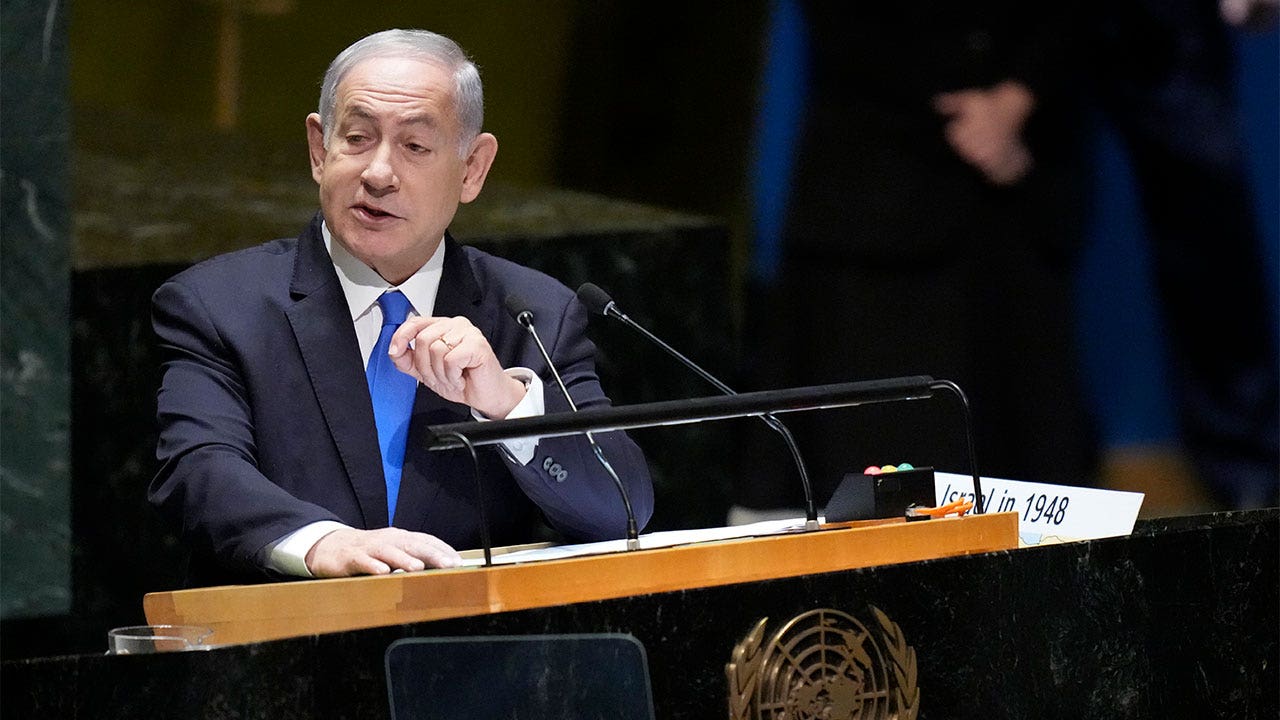 The fourth day of the United Nations General Assembly meeting kicked off in New York City on Friday, with leaders from countries all over the world speaking about pressing issues, such as climate change and global conflict. 
More than 100 world leaders spoke during the first three days of speeches.
So far the main topics addressed, with climate change, Russia's war in Ukraine and economic inflation, being the most pressing issues discussed. 
Here are some highlights of the leaders who spoke on Day 4:
Israel
Prime Minister Benjamin Netanyahu told the U.N. General Assembly on Friday that Israel is "at the cusp" of a breakthrough in a peace agreement with Saudi Arabia. Using visual aids, he showed a map of Israel in 1948 – surrounded by multiple hostile Arab countries at the time. 
Fox News chief political anchor and "Special Report" anchor and executive editor Bret Baier sat down with Netanyahu on Friday to get his reaction to Baier's interview with Saudi Arabia's Crown Prince Mohammed bin Salman (MBS) Wednesday on "Special Report."
In the decades since, Israel has normalized relations with six of those nations, including four that did so in the 2020 Abraham Accords. 
"There's no question the Abraham Accords heralded the dawn of a new age of peace. But I believe that we are at the cusp of an even more dramatic breakthrough, a historic peace between Israel and Saudi Arabia," Netanyahu said. "Peace between Israel and Saudi Arabia will truly create a new Middle East."
Some hurdles remain in the sought peace agreement with Saudi Arabia, including the creation of a Palestinian state. In an interview with Baier earlier this week, MBS said both sides were getting closer to formal normalized relations. 
"Every day we get closer, it seems it's for the first time real one serious. We get to see how it goes," the crown prince said. 
He insisted his country could work with Israel, no matter who is in charge, calling the deal "the biggest historical deal since the end of the Cold War," which he stated would rest upon agreements related to the treatment of the Palestinians.
"If we have a breakthrough of reaching a deal that gives the Palestinians their needs and make the region calm, we're going to work with whoever is there," he added. 
Peace talks between Israel and the Palestinians broke down more than a decade ago. Violence has soared in recent years as Israel has carried out military raids in the occupied West Bank and Palestinians attacking Israelis.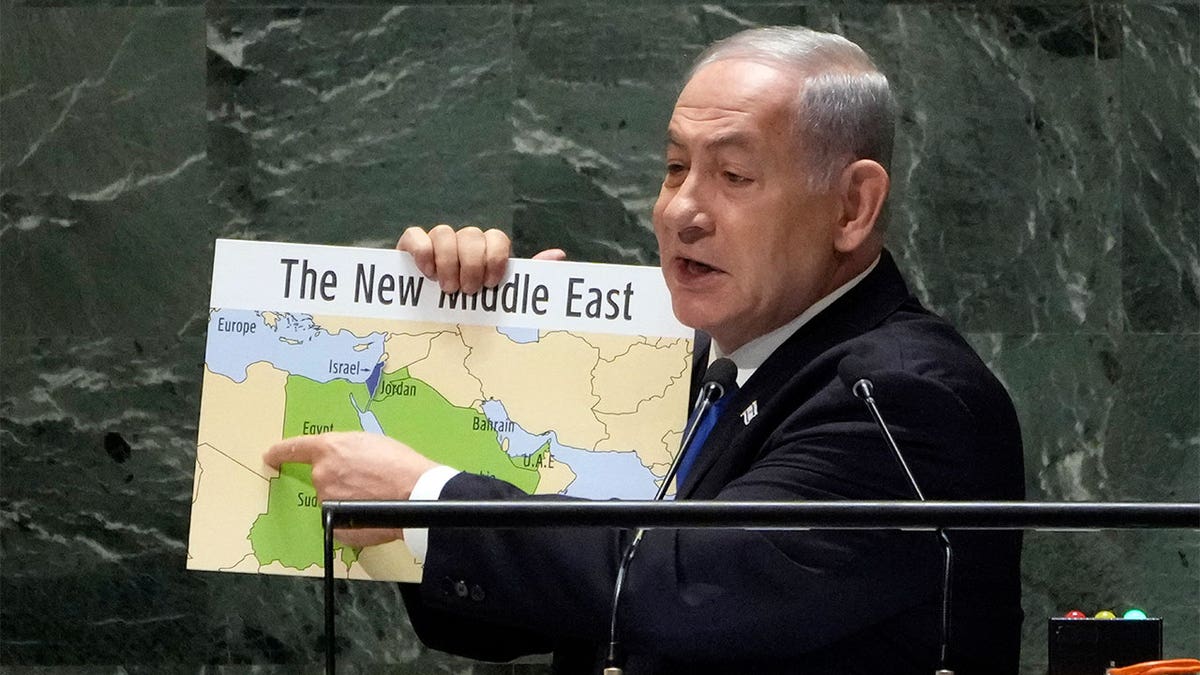 On Thursday, Palestinian President Mahmoud Abbas called for Palestine to be admitted into the United Nations, like Israel. 
"There are two states that the entire world is talking about: Israel and Palestine," Abbas told the General Assembly. "But only Israel is recognized. Why not Palestine?"
"What is the danger posed by the state of Palestine obtaining full membership of the United Nations?" he added. 
Netanyahu also called for more sanctions against Iran, which Israel views as its biggest threat. The stepped-up sanctions request was over Iran's nuclear program, which has steadily progressed since the United States withdrew from the agreement.
Pakistan
Prime Minister Anwaar-ul-Haq Kakar, Prime Minister said the decades-long dispute with India over Kashmir and peace is the key to establishing development in the area. 
Kashmir has been divided between India and Pakistan since British colonialists granted them independence in 1947 and both claim the region in its entirety. They have fought two wars over its control.
"Kashmir is the key to peace between Pakistan and India," Kakar said. 
He accused India of imposing lockdowns and curfews in the area, jailing Kashmiri leaders, violently suppressing peaceful protests and committing killings against Kashmiris.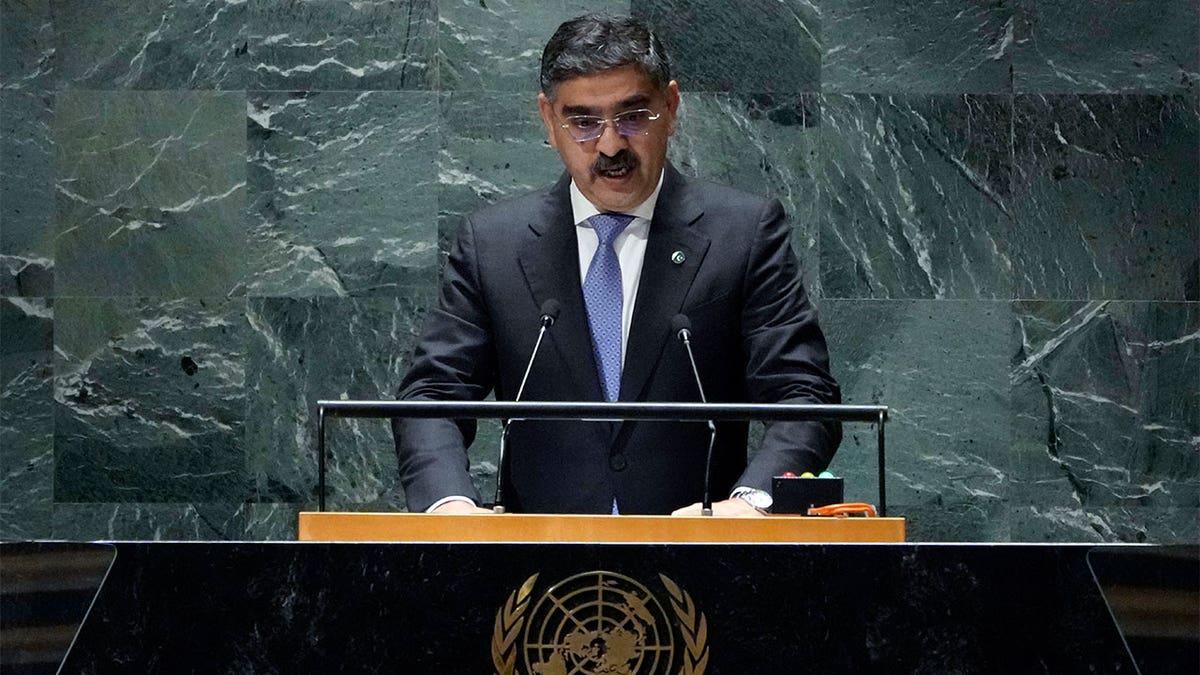 A 1948 U.N. referendum gave Kashmir the choice of joining either Pakistan or India, creating a disputed region, but it never happened. The part of Kashmir controlled by India was granted semi-autonomy and special privileges in exchange for accepting Indian rule.
Kashmiri dissidents launched a full-blown armed revolt in 1989, seeking unification with Pakistan or complete independence. Tens of thousands of civilians, rebels and government forces were killed in the raging conflict.
Iraq
Iraqi Prime Minister Mohammed Shia' Al Sudani said combatting the "corruption pandemic" disease in his country is a top priority for his administration. 
"We believe that there is a symbiotic relationship between corruption and terrorism," he said. 
Iraq has been plagued with violence as it struggles to combat terrorism. The U.N. Security Council voted last week to end, a year from now, a U.N. probe into the activities of Islamic State extremists in Iraq. The vote came at the request of the Iraqi government.
The Security Council in September 2017 set up the investigative team — also at Iraq's request — to collect evidence against members of the Islamic State group to be used in trials.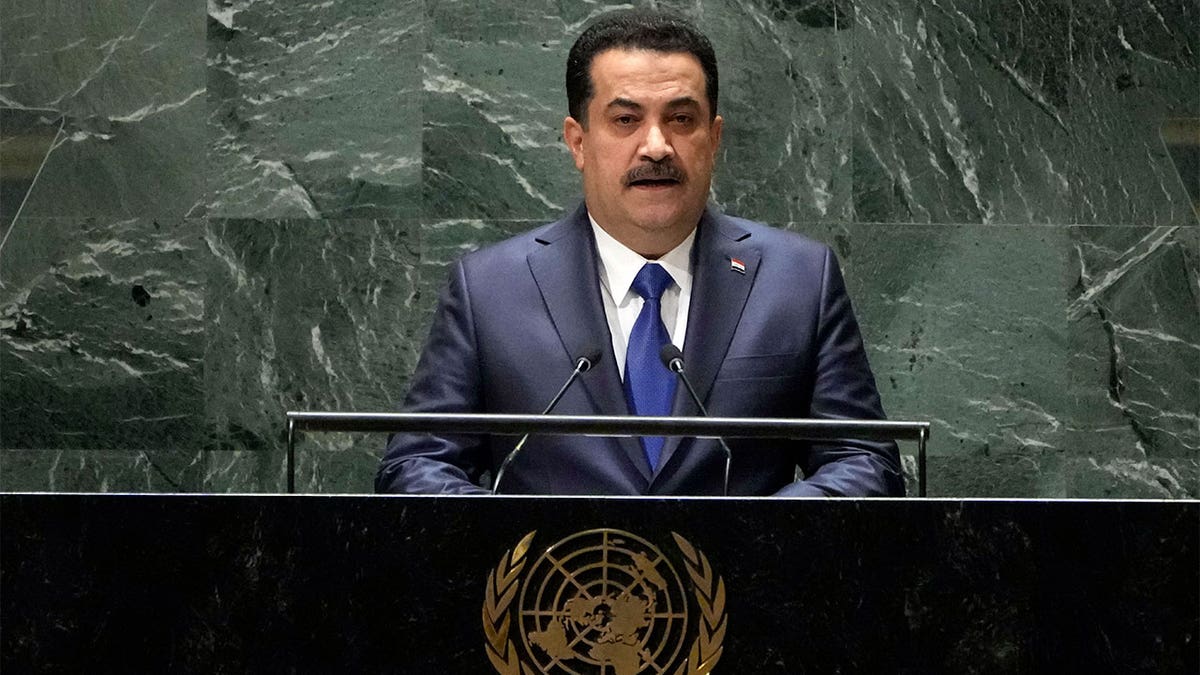 In August, Iraq and Iran reached an agreement that "armed terrorist groups" in Iraq's Kurdistan region will be disarmed and relocated next month.
Al-Sudani also said Iraq was still in talks with the  Kurdistan Region. He said Iraq wants "to expand opportunities with the Kurdistan Region and lead to more productivity in all fields
Haiti
Haiti is in the midst of a deteriorating security breakdown as criminal gangs control parts of the country through assassinations, kidnappings and sex crimes, Prime Minister Ariel Henry said. 
Gang violence has surged in the Haitian capital of Port-au-Prince and surrounding areas in recent months, with 1,860 people reported killed, injured or kidnapped from April to June, a 14% increase compared with the first three months of the year, according to the latest U.N. statistics.
"It has not reached a critical point," Henry said. "They assassinate. They set fires. They pillage, steal and abuse with particular cruelty. They drive citizens from their homes. They block roads and they force schools and hospitals, as well as businesses, to close their doors."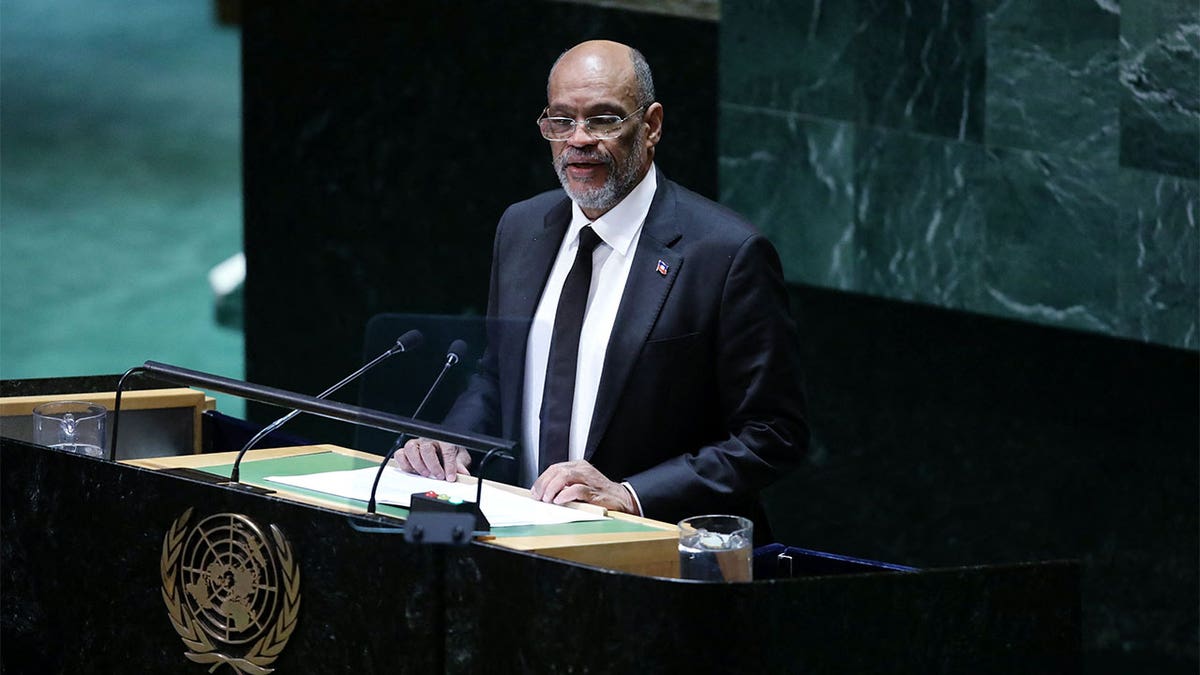 Gangs are now estimated to control up to 80% of Port-au-Prince and have grown more powerful since the July 2021 assassination of President Jovenel Moïse. Nearly 200,000 Haitians have been forced to flee their homes as gangs pillage communities and rape and kill people living in areas controlled by rival gangs, a tenfold increase in the past two years, according to the U.N. Office for the Coordination of Humanitarian Affairs.
"We are here to ask our friendly countries to understand that there is something urgent to be done to benefit the people of Haiti and to help us create a better future for the children of Haiti by re-establishing security and stability," Henry said. 
More than 20,000 displaced Haitians are living in crumbling and unhygienic shelters where gangs prey on young children and try to recruit them.
On Friday, the Biden administration pledged $100 million to support a proposed Kenyan-led multinational force to restore security to conflict-ravaged Haiti and urged other nations to make similar contributions.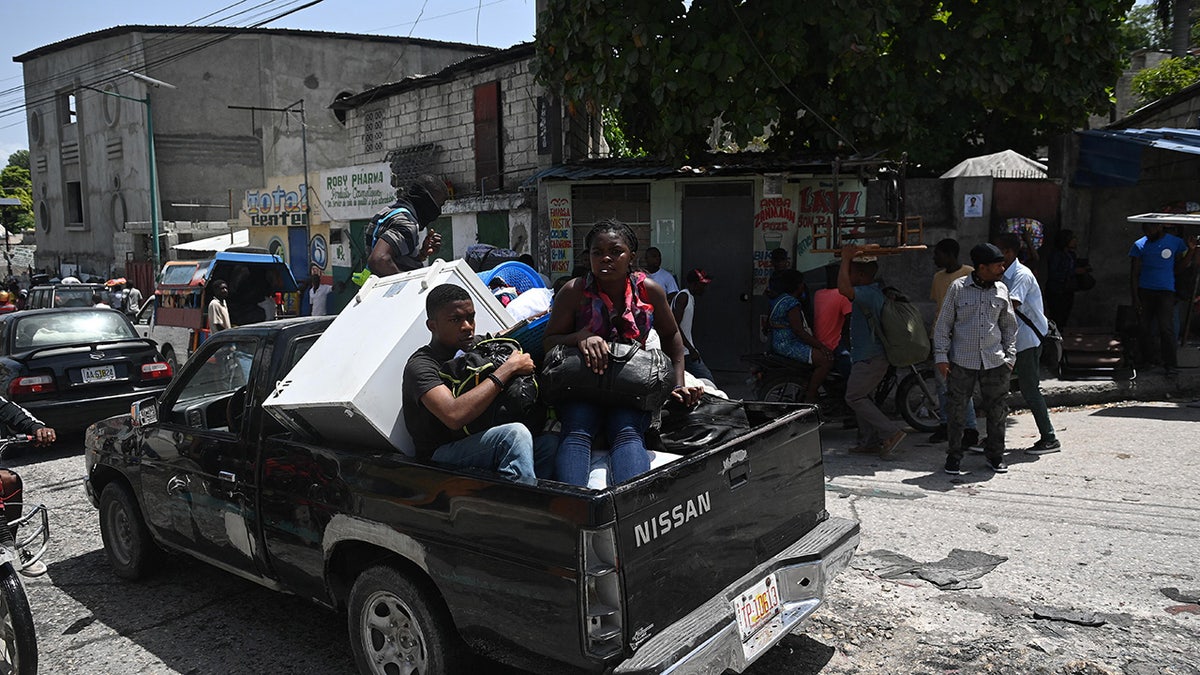 CLICK HERE TO GET THE FOX NEWS APP
Haiti shares an island with the Dominican Republic, which has voiced concerns over violence potentially spilling over into its borders. 
"What is happening in Haiti is a breakdown of public order by criminal elements, without any political or ideological claim," Dominican President Luis Abinader told the General Assembly on Tuesday. "So, to accept the Haitian authorities' request for help by sending a multinational force is in keeping with the spirit and the letter of the United Nations Charter and the mandate of this organization in accordance with international law, to guarantee peace."
United Kingdom
Deputy Prime Minister Oliver Dowden warned of the dangers of artificial intelligence and called for greater regulation of the technology. 
"We are fast becoming familiar with the AI of today, but we need to prepare for the AI of tomorrow," he said. "At this frontier, we need to accept that we simply don't know the bounds of possibilities. We are as (Thomas) Edison before the lights came on."
While AI – a branch of computer science that is designed to understand and store human intelligence, mimic human capabilities, including the completion of tasks, process human language and perform speech recognition – has the potential to empower the masses, it can also be used "for ill," Dowden said.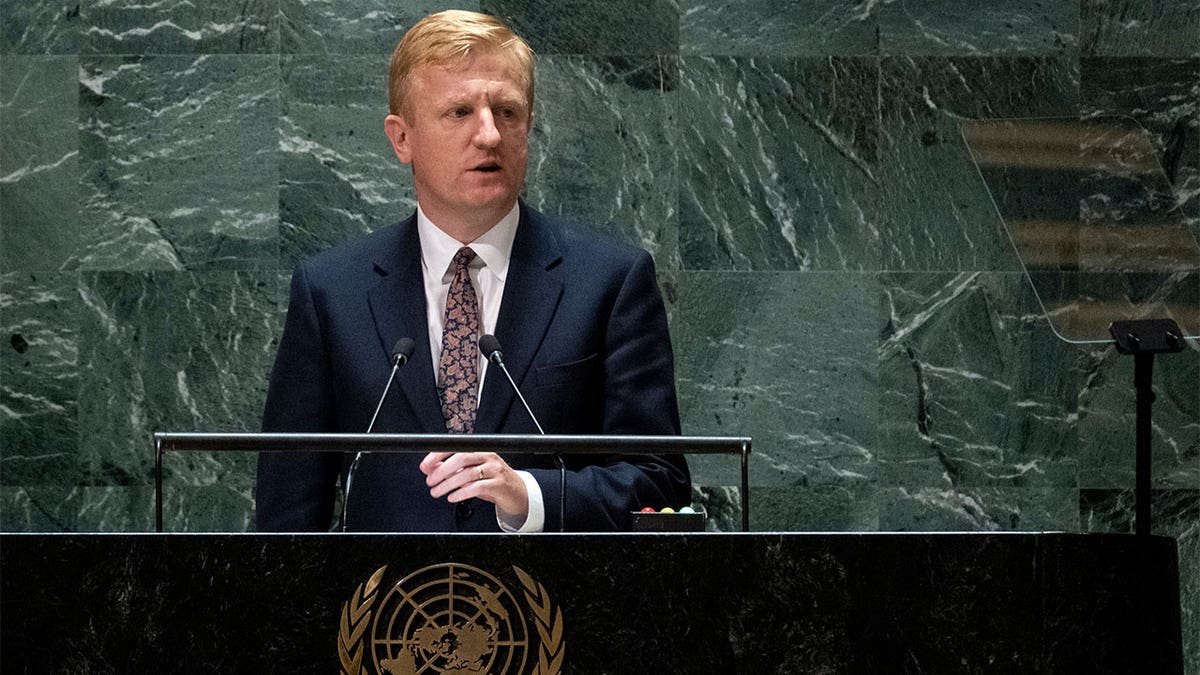 He cited criminals using the technology using AI to hack into bank accounts, terrorists who target government systems and cybercriminals fooling voters with deepfakes and bots. 
"Many argue that this technology is like no other in the sense that its creators themselves don't even know how it works," said Dowden. "They can't explain why it does what it does. And they cannot predict what it will or will not do."
The main risks of AI will therefore come from "misuse, misadventure or misalignment with human objectives," he said. 
An internet watchdog group recently sounded the alarm over the growing trend of sex offenders collaborating online to use open-source artificial intelligence to generate child sexual abuse material.
Internet Watch Foundation (IWF) found that offenders are increasingly turning to AI to create illegal child sexual abuse material and distribute it online.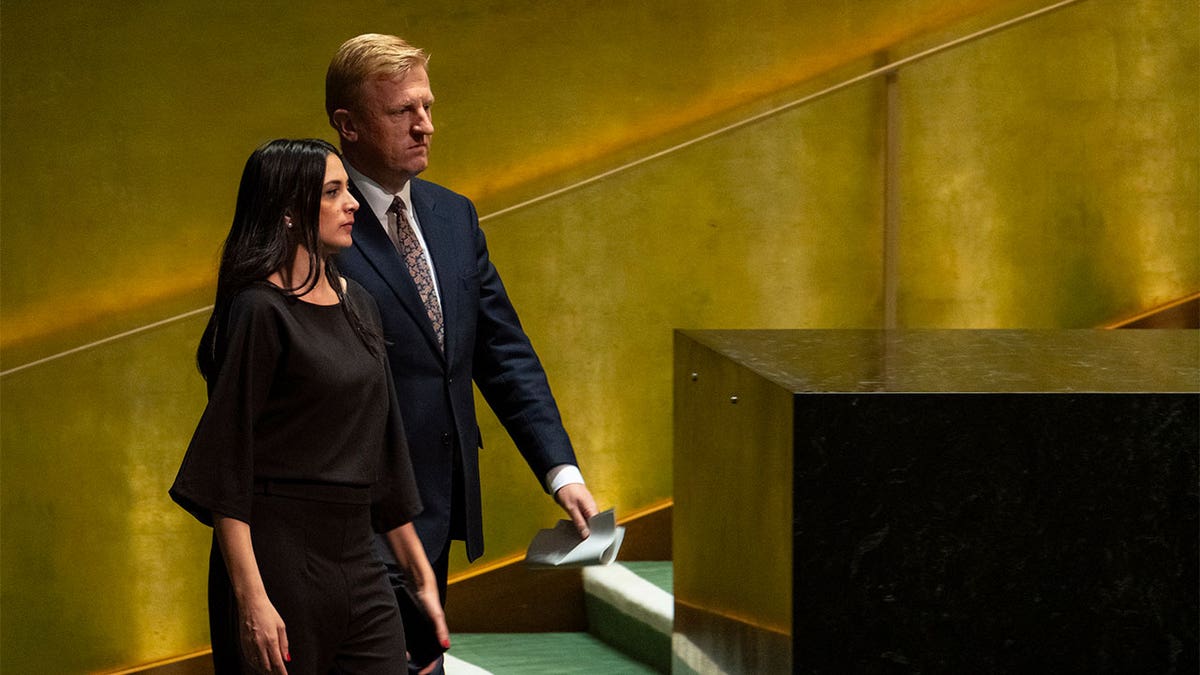 Dowden also condemned Russia's invasion of Ukraine, "an attack on a sovereign member of the United Nations by a permanent member of its Security Council," he said. He called Moscow's military aggression the "most heinous assault imaginable on everything this organization stands for and was founded to prevent."
"Russia could end this war tomorrow," Dowden said. "That is what the world demands."
Until that happens, the United Kingdom will stand alongside Ukraine "for weeks, for months, if necessary, for years," he said. 
Australia
Australian Foreign Minister Penny Wong focused on world conflict and called on the U.N. to better respond to "age of existential threats."
She also called for constraints on how the veto is used, referring to Russia, one of the five permanent members of the U.N. Security Council. Moscow is able to use its veto power that some have said keeps the U.N. deadlocked as debate rages about its invasion of Ukraine. 
"With its special responsibility as a permanent member of the Security Council, Russia mocks the United Nations every day it continues its illegal and immoral invasion of Ukraine," Wong said.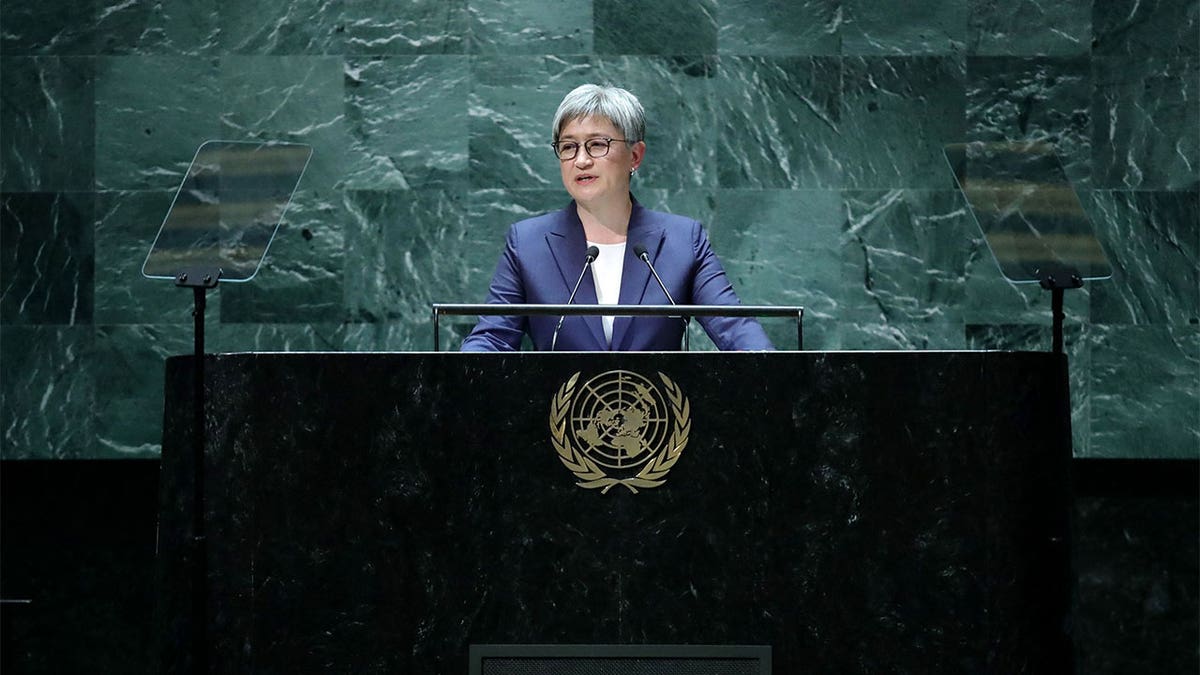 "Just as Russia mocks the international community with its cynical games on food security that leave millions hungry; promising grain to vulnerable nations yet at the same time destroying Ukrainian grain silos along the Black Sea Coast," she added. 
Wong also spoke of tensions in the South China Sea, China's military build-up in the region and North Korea's nuclear ambitions. 
"When you add dangerous encounters in the air and at sea, including between nuclear powers, we are faced with a combination of factors that give rise to the most confronting circumstances in decades," she told the General Assembly.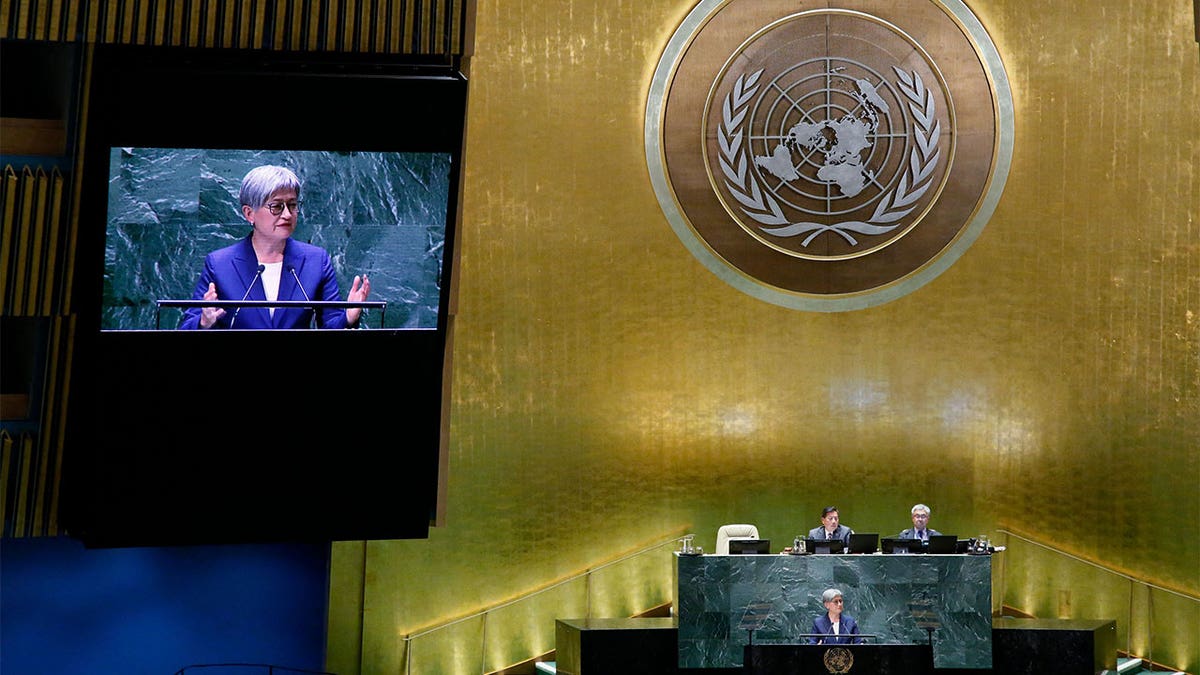 "In short, military power is expanding, but measures to constrain military conflict are not – and there are few concrete mechanisms for averting it
The Associated Press contributed to this report. 
Denial of responsibility! galaxyconcerns is an automatic aggregator around the global media. All the content are available free on Internet. We have just arranged it in one platform for educational purpose only. In each content, the hyperlink to the primary source is specified. All trademarks belong to their rightful owners, all materials to their authors. If you are the owner of the content and do not want us to publish your materials on our website, please contact us by email – [email protected]. The content will be deleted within 24 hours.