'Driving around Edmonton in a fur toga has a lot of authority,' Fillion tells Postmedia about his previous career
Article content
The Rookie universe expanded this season with the debut of the Niecy Nash-led Rookie: Feds. But franchise star Nathan Fillion already has an idea for another offshoot series.
Article content
"I'm trying to get something started," the Edmonton-born actor said playfully in a recent video call.
Article content
"It's the new Netflix and chill. We have The Rookie, and right after, The Rookie: Feds. Then Tuesday nights, Rookie: Nookie."
Fillion pauses a beat waiting for laughter and when he hears it, he breaks into a grin.
"That's a yes. I'm hearing a yes. Hashtag Rookie Nookie."
Now in its fifth season on ABC and CTV, Fillion's stint as Officer John Nolan on The Rookie has proven to be the most rewarding in an acting career that first took off in 1994 when he landed the role of Joey Buchanan on daytime's One Life to Live and reached cult status when he scored the part of Malcolm Reynolds on Fox's space western Firefly in 2002.
"Castle was fun to play because he got away with everything," Fillion said, referencing his last TV role as mystery novelist Richard Castle on the ABC dramedy Castle. "I would never hang out with that guy, but playing him was fun. John Nolan is a character I've kind of grown into. It's nice to play someone who is thoughtful."
Article content
After a mid-life career change that found Nolan starting out at the bottom as a beat cop 20 years younger than his LAPD colleagues, this season has found the 40-something "rookie" become a training officer to a new recruit. The series also introduced a new show centring in on FBI rookie Simone Clark (Nash).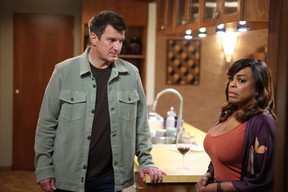 "Having a spinoff is something that you hope and wish and dream for," Fillion said.
Earlier this month, Nolan and Clark teamed up to solve a haywire bank robbery.
"We're right up to the first of — hopefully — many spinoffs," Fillion said in an interview in Toronto, in which he spoke about the appeal of the show, career reinventions and his future as a supervillain in the DC cinematic universe.
We spoke ahead of the first season, when we were introduced to Officer Nolan as a new recruit. You're now on Season 5. Why do you think it connected the way it did with audiences?
Article content
"It's a police show, so there's a lot of drama and excitement there. But I think there's something relatable about the redo and the restart. Dropping everything and push into something entirely different. That's a new reality for a lot of people, especially coming out of the pandemic. We've all reprioritized and made changes. People have quit jobs and people can relate to change."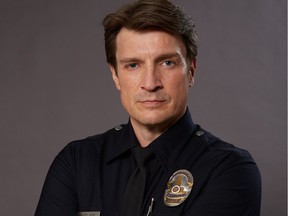 You mentioned the theme of the restart. We've met four or five times and I didn't know that one of your first jobs was a singing telegram. Since then, you've reinvented yourself many times in your career. What do you think was your biggest reinvention?
"It's something I ask people in the industry all the time, because I'm interested. I always want to know when people thought, 'I made it.' For me, it seems like each project I do I'm saying to myself, 'Oh my God, I finally made it.' Here I am, I'm about to turn 52 and I've been in this business for 30 years. I'm still experiencing firsts. This is my first time on a prime-time, 8 o'clock show of my very own. This is my first time with a spinoff show. This is my first time where they are really building out an evening with the kinds of entertainment we're trying to bring."
Article content
How did you stay warm as a singing telegram in Edmonton?
"I was responsible for a lot of the Tarzan singing telegrams so I wore a little fur toga. But I didn't do a lot of that in winter time. Summer time is high season for singing telegrams. I'll tell you this, though: Driving around Edmonton in a fur toga has a lot of authority. People let you get away with a lot, dressed like that. I actually entered a police station and went right through the metal detectors, stood on someone's desk and did a big ol' Tarzan yodel and everyone was cool with it."
Nathan Fillion labels Javelin most useless member of 'The Suicide Squad'

Nathan Fillion tackles mid-life reinvention on new cop dramedy

Nathan Fillion talks 'Cars 3', 'Firefly' reboot and the Edmonton Oilers
Article content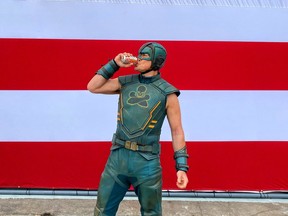 Last time we chatted, you were playing TDK — The Detachable Kid — in DC's Suicide Squad. Now that James Gunn is the boss over there, how many times have you called him to ask when you are coming back?
"I've not signed off on TDK just yet and I know James hasn't either. I know he has his hands full with the DC Universe, but yes, I do text him with all my ideas."
Is there anyone else you'd want to play in the DC cinematic universe?
"There's an obscure character that I don't think a lot of people know about: Ambush Bug. He was deranged and found some kind of alien suit that covers him from head-to-toe — you never see his face. He's invulnerable and he has the ability to teleport, but he's not quite there (mentally). He breaks the fourth wall like Deadpool and She-Hulk. I think he could be fun to do."
Now everyone is going to be Googling Ambush Bug.
"I'm also going to throw my hat in with Booster Gold. That's another good one."
The Rookie airs Tuesday nights on ABC and CTV
Denial of responsibility! galaxyconcerns is an automatic aggregator around the global media. All the content are available free on Internet. We have just arranged it in one platform for educational purpose only. In each content, the hyperlink to the primary source is specified. All trademarks belong to their rightful owners, all materials to their authors. If you are the owner of the content and do not want us to publish your materials on our website, please contact us by email – [email protected]. The content will be deleted within 24 hours.