'It's embarrassing and I feel so bad,' Tonight Show host said in response
Get the latest from Mark Daniell straight to your inbox
Article content
In a new expose published this week by Rolling Stone, several Tonight Show staffers have accused late-night host Jimmy Fallon of fostering a "toxic" work environment due in large part to his "erratic behaviour."
Article content
"Nobody told Jimmy, 'No.' Everybody walked on eggshells, especially showrunners," a former employee told the magazine. "You never knew which Jimmy we were going to get and when he was going to throw a hissy fit. Look how many showrunners went so quickly. We know they didn't last long."
Article content
"It's a bummer because it was my dream job," an ex-colleague added. "Writing for late night is a lot of people's dream jobs, and they're coming into this and it becomes a nightmare very quickly. It's sad that it's like that, especially knowing that it doesn't have to be that way."
Another employee described an incident in 2017 where Fallon crossed out jokes on a piece of paper he was holding, then appeared to not understand what was going on.
Article content
"He couldn't remember he had just crossed it out himself," the employee said. "I was like, 'Oh, my God, he (seems) drunk. He doesn't know what he's doing. This could be awful — this could be the end of the show right here.'"
As the article went viral Thursday evening, Fallon responded to the many statements against him.
"It's embarrassing and I feel so bad. Sorry if I embarrassed you and your family and friends," Fallon said during a Zoom meeting with "Tonight" employees, Variety reported. "I feel so bad I can't even tell you." He told the assemblage during the meeting, which was said to be brief: "I want this show to be fun, it should be inclusive for everybody, it should be funny, it should be the best show, the best people."
Article content
Co-workers claimed that despite cheery segments produced for television, their workplace was "pretty glum" with Fallon losing his cool at the slightest thing.
"If Jimmy is in a bad mood, everyone's day is f***ed," one former employee said. "People wouldn't joke around in the office, and they wouldn't stand around and talk to each other. It was very much like, focus on whatever it is that you have to do because Jimmy's in a bad mood, and if he sees that, he might fly off."
In its bombshell story, Rolling Stone said it had contacted more than 50 Tonight Show employees, eventually connecting with two current and 14 former employees of the program. "While many of them praised Fallon's immense talent and comedic gifts, not a single one agreed to speak on the record or had positive things to say about working on The Tonight Show."
Article content
None of the nine showrunners who have worked on the program since Fallon took over in 2014 offered any comment.
"I don't think they've landed on a leader who can keep it together," one ex-staffer said of the constant changes.
Others spoke about having to go on anti-anxiety medication, with one person claiming they lost 20 pounds working on the show. Four people said they were in therapy following their experiences, and three alleged that their time working alongside Fallon left them feeling suicidal.
"Mentally, I was in the lowest place of my life. I didn't want to live anymore," one person told the outlet. "I thought about taking my own life all the time. I knew deep down I would never actually do it, but in my head, I'm like, 'Why do I think about this all the time?'"
Article content
Elsewhere, Fallon was accused of being belittling when giving feedback on material. "'Ugh, lame,'" he allegedly wrote to one person. "'What is going on with you?'"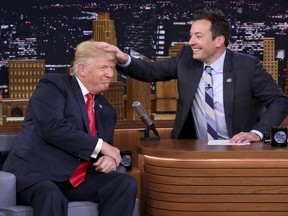 In one instance, Fallon's erratic nature caused him to berate a cue-card holder leading his guest, comedian Jerry Seinfeld, to ask him to apologize.
"It was very awkward, and Jerry (Seinfeld) was like, 'You should apologize to him,' almost trying to make it like a joke," a witness said. "It was one of the strangest moments ever and so many people were there, so it's kind of hard to forget."
Complaints to HR went unheeded with five people saying they voiced concerns during their exit interviews.
"They don't protect us," a former staffer said. "They don't do anything for us."
Article content
A rep for NBC said that the network is "incredibly proud of The Tonight Show," which has been on the air for almost 70 years, but didn't offer any direct words of support for Fallon.
"As in any workplace, we have had employees raise issues; those have been investigated and action has been taken where appropriate. As is always the case, we encourage employees who feel they have experienced or observed behaviour inconsistent with our policies to report their concerns so that we may address them accordingly," the spokesperson said.
Variety noted that insiders close to the show have pointed to an era of stability since Chris Miller was named showrunner in March of last year. 
Last month, Fallon joined fellow late-night hosts Stephen Colbert, Jimmy Kimmel, John Oliver and Seth Meyers, in a new podcast called Strike Force Five — named after their personal text chain — to help their respective staffs as the writers' strike drags on, and keeps their shows in the dark.
Article content
In the past, there has been whispers that Fallon has a problem with alcohol. In 2016, Page Six ran a story alleging that NBC had raised concerns about his drinking habits.
But he denied those claims, telling the New York Times, "I could never do a day-to-day job if I was drinking every night. That's just kicking you when you're down."
On social media, fans reacted to Rolling Stone's report with a mixture of disbelief and anger.
"Reason 1,456 why Conan O'Brien should have been given The Tonight Show," one person wrote, supporting Fallon's short-lived predecessor.
"I feel like (this is) supposed to be a bombshell report, but like  … don't most of us have bosses that suck?" another dismissed.
Postmedia has reached out to Fallon for comment, but with the article becoming a trending topic on social media, the 48-year-old joins other TV personalities who have been hit by toxic workplace claims, including Ellen DeGeneres and Kelly Clarkson.
Article content
This past May, 11 current and former employees complained about being overworked and underpaid on The Kelly Clarkson Show.
In the report, published by Rolling Stone, the anonymous employees called Clarkson "fantastic" but said show producers were "monsters."
Clarkson said she was disappointed to learn what was going on behind the scenes. "To find out that anyone is feeling unheard and or disrespected on this show is unacceptable," she wrote in an Instagram post.
Jimmy Fallon confuses No Frills supermarket for an actual band: 'Bananas ARE the portable fruit'

Jimmy Fallon hated online after 'embarrassing' Trump interview
Denial of responsibility! galaxyconcerns is an automatic aggregator around the global media. All the content are available free on Internet. We have just arranged it in one platform for educational purpose only. In each content, the hyperlink to the primary source is specified. All trademarks belong to their rightful owners, all materials to their authors. If you are the owner of the content and do not want us to publish your materials on our website, please contact us by email – [email protected]. The content will be deleted within 24 hours.