WASHINGTON — California stands for "equality and acceptance."
In Minnesota, "the march of hate and bigotry stops" at its borders.
And New York intends to serve as a "beacon of hope" and a "safe haven for trans youth and their families."
As red states have moved to restrict the rights of LGBTQ+ people, some Democratic statehouses have rushed to legislate — and message — in the opposite direction, often with enthusiastic endorsements like the above from their governors.
In response to the 20 states that have banned gender-affirming care such as reversible puberty blockers and hormone therapy for minors, more than a dozen states have enacted what have become known as "safe haven" or "shield" laws. Such laws generally prevent state officials from aiding the enforcement of gender-affirming care bans passed in other states, some of which have criminalized providing gender-affirming care, even in other states.
Trans rights activists have praised the new safe haven laws as a necessary step to counter national trends, while also pushing lawmakers to expand — not just protect — transgender rights. But the new laws, they say, can do only do much if they aren't well-implemented and -funded, or if they aren't designed to help the community's most vulnerable members.
"I think it's always good that we're seeking to increase protection," said Terra Russell-Slavin, chief impact officer at the Los Angeles LGBT Center. But, she added, "sometimes it feels more message-driven."
Minnesota, which passed its shield law in April, borders three states — Iowa, South Dakota and North Dakota — that have banned gender-affirming care for minors as well as transgender youth participation in sports. North Dakota and Iowa are among nine states that have restricted transgender minors from accessing bathrooms that correspond to their gender identity.
But in neighboring Wisconsin, efforts to restrict transgender rights have been blocked by Democratic Gov. Tony Evers. Evers vetoed a provision in the state budget last month that would have blocked Medicaid coverage of gender reassignment surgery and puberty blockers for transgender youth. He previously vetoed a bill to bar trans girls from participating on sport teams that align with their gender identity, and vowed to block a similar bill introduced last month.
Minnesota state Sen. Erin Maye Quade, who wrote the state's trans refuge bill, said it was focused on making sure that transgender residents aren't excluded from the protections that cisgender people have. State Rep. Leigh Finke, Minnesota's first transgender member of the Legislature, wrote the version of the bill passed in the House.
"We wanted to be really explicit that the trans refuge bill is not just about making sure that people know that they're welcome here and beloved here, but it's protecting them, and their parents, and their providers, from being prosecuted and jailed for providing or accessing healthcare," Quade said.
For transgender youths and their families, the messaging around shield laws has a strong appeal. R., a 16-year-old trans boy who lives in northwestern Wisconsin, said he was sitting in his living room with his mother, T., this spring when she showed him an Instagram post announcing Minnesota's safe haven law. (T. asked that she and her son be identified only by their first initials out of concern for their safety.)
"When I found out, it made me feel very safe and accepted, since I live so close," R. said. "I was like, 'Oh, that's nice.' … I took a minute to process it, and then I was like, 'Oh wait, that's really nice.'"
While gender-affirming care for minors is legal in Wisconsin, R. has been receiving treatment at a clinic in Minnesota. Even if there were a closer clinic, T. said she wouldn't feel comfortable having her son treated in Wisconsin because the political and legal climate could deteriorate.
She pointed to recent events in Tennessee, where Vanderbilt University Medical Center turned over the files of transgender patients to the state after the attorney general launched an investigation into the hospital for alleged medical billing fraud, the Tennessean newspaper reported in June. Tennessee GOP Gov. Bill Lee signed the state's ban on gender-affirming care for minors in March.
"I don't want to put my young person in a place where they're at risk of that potentially being an outcome for them as well," T. said. "That's why I feel a lot safer and more comfortable bringing them to Minnesota for care, especially now, given the sanctuary status that [state has] created."
More than 86% of transgender and nonbinary people ages 13 through 24 said their mental health had been harmed by debates in state legislatures over laws to limit their rights, and 45% said they had experienced cyberbullying, according to a fall 2022 survey conducted by Morning Consult for the Trevor Project, which runs a 24/7 crisis hotline for young LGBTQ+ people.
California's shield law, introduced last year by state Sen. Scott Wiener (D-San Francisco), prevents law enforcement from cooperating with other states seeking to enforce gender-affirming care bans on treatment received in California. It also prevents California officials from complying with related out-of-state subpoenas.
"Our priority has been to make clear that as other states demonize and criminalize trans people and try to erase them, to make clear that in California we're going the opposite direction and we're embracing our trans people," Wiener told The Times.
State Sen. Nancy Skinner (D-Berkeley) introduced a bill this session to strengthen the safe-haven law. If passed, it would increase legal protections for healthcare workers providing abortions, contraceptives and gender-affirming care to out-of-state residents.
The challenge facing lawmakers and advocates in many blue states is to strike a balance between maintaining existing rights and continuing legislative efforts to improve the physical, emotional and economic well-being of transgender and gender-nonconforming people. That's an even greater challenge for a state such as California, where progressive social policies come hand in hand with high rents and economic inequality.
"On the policy level, California is definitely one of the better states for legal protection," said Logan Casey, a senior researcher at the Movement Advancement Project, an LGBTQ+ think tank that tracks national policies. "But one of the things that we know … is that there's often a big gap between legal equality, or the actual policies on the books, and lived equality, or what people's day-to-day experiences look like."
In 2020, California legislators passed a bill establishing the Transgender, Gender Nonconforming and Intersex (or TGI) Wellness and Equity Fund, aimed at providing grant money to organizations that serve TGI clients to help them improve healthcare access for their communities. The legislation defines healthcare broadly to include mental healthcare, therapeutic care, substance-abuse treatment and access to housing.
In 2021, the state allocated $13 million to the program, including $10.3 million for grants. The California Department of Public Health opened applications for the first round of grants — $2.5 million for gender-affirming care clinics — in June.
"It's brand-new," Russell-Slavin said. "Realistically, it takes a while for the funds you get allocated at the state to actually reach the community."
The effort to enact the TGI Wellness and Equity Fund was advanced by a coalition of groups led by the TransLatin@ Coalition, an organization that advocates for transgender, gender-nonconforming and intersex Latino immigrants. Alexandra Magallon, the TransLatin@ Coalition's manager of programs and services, said the push for the fund grew out of the difficulties some transgender people — particularly those who are low-income, survive on sex work or don't have access to computers or the internet — faced in trying to get COVID-19 pandemic benefits.
The goal, she said, was to make sure that "when things like this happen again, that we are structurally able to make sure that our community doesn't continue to die."
In Washington state, Democratic lawmakers have passed bills to shield patients who seek abortions or gender-affirming care from subpoenas and warrants issued out of other states; to increase access to district courts for name changes; and to prevent health insurance plans from denying coverage for gender-affirming care.
But when legislatures move quickly in response to national trends, it's harder to get input from key stakeholders about their priorities, said Jaelynn Scott, executive director of the Lavender Rights Project, a Seattle-based organization that advocates for Black trans people.
Scott praised lawmakers in her state for passing some of the most progressive laws in the country, but said the Legislature had been more "reactive" than "strategic."
"The reason why we have this perspective at our organization — which is a Black, trans-led organization — is that [for] Black trans people, this is not a new emergency for us," Scott said. "These bills aren't really opening up access to the most vulnerable of our communities who need the care the most."
The state's shield law, for example, protects people who have traveled to seek care in Washington from states that have criminalized gender-affirming care or abortion. What the bill doesn't address is how to pay for it.
"What does that do for someone who doesn't have stable housing, who certainly can't afford a plane [ticket] to come to Washington state for healthcare, and who never had access to gender-affirming care in the first place?" Scott said. "It's not written for our communities."
Beyond shield laws, advocacy groups continue to push for legislation that would make it easier for transgender and gender nonconforming people to change their names and gender markers on government forms; to improve access to and the quality of healthcare that LGBTQ+ people receive through data collection and training for healthcare workers; and for policies that address economic disparities.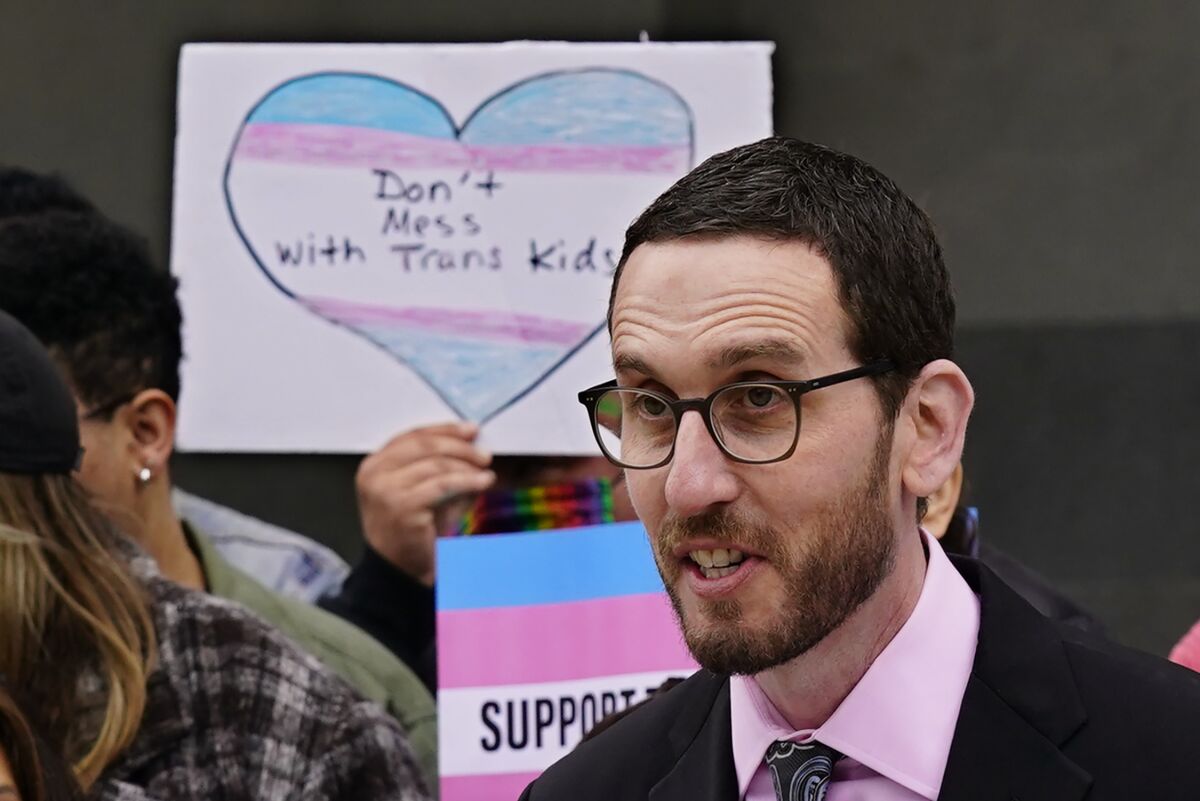 In Maine, Democratic Gov. Janet Mills signed a bill this year that will allow 16- and 17-year-olds to access gender hormone therapy despite parental objections if they've received counseling and can show they would be harmed by not being treated. Mills also signed legislation aimed at changing state forms and gathering better medical data on LGBTQ+ patients.
Quinn Gormley, co-executive director of MaineTransNet, which lobbied for several transgender rights bills passed this session, said advocates in her state were focused on how Maine could be a model of what's possible.
"Our thinking before we got to session was, it's important that we play defense, and we beat back against all the anti-trans bills — and we had a couple dozen here, all defeated," she said. "But we didn't want just playing defense to be the only thing that we did."
Under one law, the state is conducting a review of all government forms to determine whether they need a gender field and, if so, whether to add a third, nonbinary option. Another law makes it easier for transgender people who transition after getting married to get new marriage certificates issued.
In Minnesota, lawmakers and advocates are looking into ways to plan for people moving into the state. Quade said the Legislature may consider appropriating funding for people who relocate there.
Hannah Edwards, executive director of the support group Transforming Families Minnesota, said advocacy organizations are teaming up to start collecting data to get a better sense of how many families are moving to the state. The goal is to gather enough information to show policymakers there is a need for more resources.
Transforming Families and other Minnesota-based groups have received emails from out-of-state families interested in the state's efforts to serve as a safe haven. Out-of-state families have also started to join their Facebook groups and participate in their virtual peer support groups. Edwards said her team hopes to open more offices closer to its borders with states that are restricting transgender rights.
"It's going to become increasingly important to not only support with the resources," she said, "but also support those parents who are looking for connection when their state is hostile."
Denial of responsibility! galaxyconcerns is an automatic aggregator around the global media. All the content are available free on Internet. We have just arranged it in one platform for educational purpose only. In each content, the hyperlink to the primary source is specified. All trademarks belong to their rightful owners, all materials to their authors. If you are the owner of the content and do not want us to publish your materials on our website, please contact us by email – [email protected]. The content will be deleted within 24 hours.