JERUSALEM, Israel – Violent crackdowns, arbitrary arrests, trumped-up police charges, imprisonments, and even live ammunition to deter innocent women, children and people with disabilities from demanding basic rights such as electricity are just a few of the heartbreaking testimonies from the Gaza Strip captured in a series of video clips published recently by the U.S.-based Center for Peace Communications. 
The series, "Whispered In Gaza," which uses animation and voice-altering technology to protect the identity of the speakers, offers a rare and unfiltered glimpse into life in the poverty-stricken, embattled Palestinian enclave. But the anger and fears expressed by those who bravely share their stories are not directed toward their neighbor, Israel. Rather, their criticisms and despair are aimed at their autocratic rulers: Hamas. 
"Your own thoughts are taken away from you when you walk down the street, the walls are covered in pictures, slogans and stories of the Hamas leadership and you feel like you're in a war zone. Is this a city or a military barracks?" asks one man, who the video calls "Iyad."
"Gaza is a city. Yet they've penetrated it down to the walls, the billboards, even the odor," he continues. "The city has taken on a vibe of backwardness, inhumanity, militarism. At any moment it could be fired from, fired upon – missile strikes, response, repeat. We are conditioned to this."
ISRAEL FIRES BACK AT HAMAS TARGETS AFTER SECOND ROCKET STRIKE THIS WEEK AMID TENSIONS
In another of the clips, "Ahmed" recounts how the electric company, accompanied by the Hamas-controlled police, arrived to turn off the supply in his neighborhood. Those that tried to stop them, including Ahmed's cousin, a boy with Down syndrome, were beaten and fired on with live rounds. When Ahmed decided to document the injuries and uploaded a video to the internet, he was forced into hiding for three days before the Hamas authorities caught and jailed him. 
"I'm not trying to make you think I'm a hero," he says in his testimony. "I'm just one of the thousands of people who have dealt with similar situations and worse." 
"When unpleasant videos come out, like the one of hundreds of Gazans celebrating the carnage in Jerusalem last week, they form the impression that Gazans are squarely behind Hamas and that's exactly what Hamas wants," Joseph Braude, founder and president of the Center for Peace Communications, told Fox News Digital in an interview. 
"Hamas claims that the people are wrapped around the resistance, that is their claim to legitimacy, but the reality is that the hundreds who turn out for such events are not a cross-section of the millions who stay home," he said. 
HAMAS' CYBER TERROR IS A TEST CASE FOR OTHER NON-STATE PLAYERS, REPORT SAYS
A designated terrorist organization, according to the U.S., EU and Israel, Hamas has maintained an iron-clad grip on Gaza since violently taking over the territory in 2007, after Israel unilaterally withdrew in 2005. The militant Islamist group, which receives funding and training from Iran, imposes a strict Islamic code on its two million plus residents and continues to engage in fighting Israel, including firing endless rounds of rockets and incendiary devices into Israeli territory, as well as mass protests along the border fence.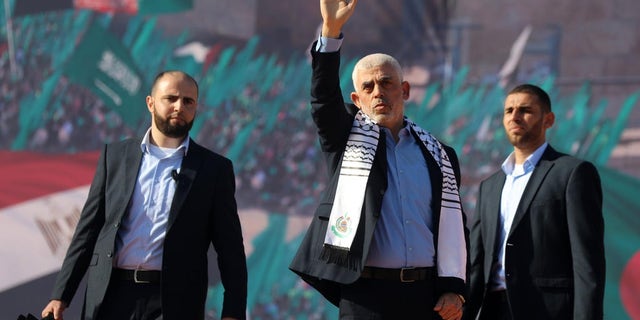 Israel, together with Egypt on its southern border, continues to maintain a tight civilian and military blockade over the area, controlling the flow of goods and humans in and out of the Strip, as well as responding to attacks perpetrated by Hamas and other militant Palestinian groups. 
Braude noted, however, that recent polls show a diversity of views among Gazans, with the majority saying they are unhappy with the launch of rockets from their territory and blaming Hamas for initiating the wars with Israel. There is also deep resentment at Hamas' leaders for leaving the Strip or hiding out in bunkers, while civilians suffer the casualties from these on-going flare-ups.
"The people in Gaza don't trust them [Hamas] but they're repressed," Braude said, adding that many even refer to Hamas, not Israel, as the occupying force in Gaza. 
Michael Milshtein, head of the Palestinian Studies Forum at the Dayan Center in Tel Aviv University, Israel, told Fox News Digital that the videos were an accurate reflection of attitudes in the Gaza Strip and that in his estimation only around 25% of the population – mostly Hamas members and their families – supported the Hamas government. 
UNIVERSITY OF MICHIGAN RALLY CALLING FOR 'INTIFADA,' DEMISE OF ISRAEL STUNS INTERNET: 'A CALL TO MURDER JEWS'
"I talk a lot with people in Gaza and it is quite clear that the majority of the public there is suffering and strongly opposes the Hamas administration," he said. "The big problem, however, is that there is a deep fear of Hamas and a clear understanding that any protests against the organization will be met with great force."
Milshtein said there had been some civilian protests in recent years, mainly due to the dire economic situation, but that "at the moment, Hamas is still strong and while the possibility of another outbreak of protests against them exists, I'm not sure it will be effective."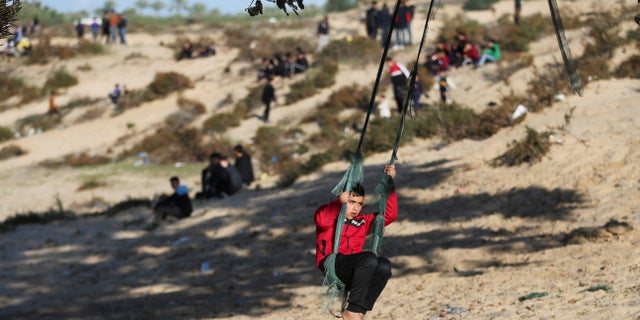 Braude, whose organization is backed by the Arab Council for Regional Integration, which promotes Israel-Arab engagement, said the goal of the project was not only to "help Gazans break the blockade" imposed by Hamas but also to spark a new conversation on the situation worldwide. 
Since its launch two weeks ago, the Whispers In Gaza series, which was featured by an array of independent media outlets and is available in six languages – Arabic, English, French, Spanish, Portuguese and Persian – has garnered some three million views, with the largest audiences being in the Arab world and North America.
In Gaza, Hamas reportedly reacted angrily to the videos sending bot armies to bring down the organization's distribution platforms and doctoring some of the clips with their own voiceovers. In one of the altered versions, Braude said, the testimony of a Palestinian mother describing anxiety over sending her children to a Hamas-run school was changed to the voice of a mother expressing pride at her child joining the resistance. 
Monitoring broader reaction to the videos across social media, Braude said, "we've seen the beginnings of what we'd like to achieve, which, in a nutshell, is to start a new conversation about what's happening in Gaza – a conversation that is wider and more thorough than the polemics which bubble up whenever there's a war." 
"We interviewed dozens of people inside Gaza on the condition that we would not show their faces, and we would alter their voices and we brought a team of very creative animators, musicians, artists, to turn their voices into, I think, quite beautiful videos that in some ways, are more memorable in the way that they depict these people's lives artistically," he explained. 
DEADLY GAZA STRIP HOUSE FIRE KILLS 21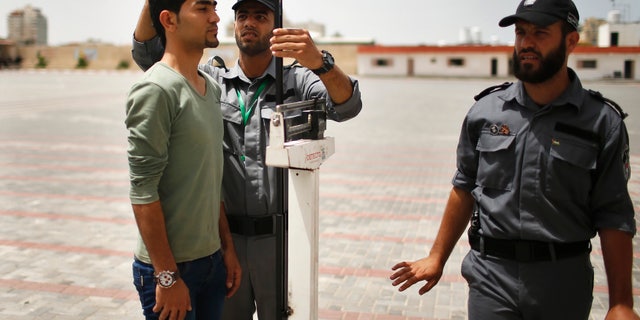 In perhaps the most powerful of the 25 testimonies, a woman called only "Zainab," tells viewers: "There is a false stereotype that Palestinians in Gaza love rockets and wars. Gazans don't love war, the wars that happen in Gaza are waged by the Hamas government for political aims that serve them alone." 
"We don't want war, we want a decent life, our mental and physical health is at risk due to a situation we did not chose," she continues. "A faction is fighting in the name of the Palestinian people but not all Palestinians agree with it. My struggle is to communicate with Palestinians and Israelis and make them understand that I am a human being here in Gaza, not a beast or a terrorist, or a lover of weapons because in the end, weapons won't get us anywhere." 
Avi Melamed, a former Israeli intelligence official and founder of Inside the Middle East, an educational program, told Fox, "these videos have the potential to make an impact but only if they manage to change the narrative [about Gaza] in the West and start a new process where Western circles finally hold Hamas accountable." 
CLICK HERE TO GET THE FOX NEWS APP
"If these videos can generate a new discussion where Hamas, which acts as a government for its people, is no longer exempt from any responsibility, that will empower the many people in Gaza, I would even say majority of the people there, who resent Hamas," he said. 
The voices and identities of the Gazans featured in the videos have all been independently authenticated by experts.
Denial of responsibility! galaxyconcerns is an automatic aggregator around the global media. All the content are available free on Internet. We have just arranged it in one platform for educational purpose only. In each content, the hyperlink to the primary source is specified. All trademarks belong to their rightful owners, all materials to their authors. If you are the owner of the content and do not want us to publish your materials on our website, please contact us by email – [email protected]. The content will be deleted within 24 hours.