In recent years, fictional movie characters have been hailed as queer icons  … Many of these characters are non-human and appear in horror  — a genre that has often been linked with queerness. 
Even if you haven't watched James Wan's latest horror-comedy flick "M3GAN," you're probably already familiar with its titular and viral star. We're talking about M3GAN, the life-sized humanoid AI doll who dances, sings and murders with great panache. Some say she looks like a young Scarlett Johansson while others say she resembles Renesmee from "Twilight." Simply put, M3GAN is a legend. She is the moment. And, she's undeniably a queer icon.     
In the film, M3GAN (voiced by Jenna Davis and portrayed by Amie Donald) is created by Gemma (Allison Williams), a roboticist at the high-tech toy company Funki, and designed to be a companion to her orphan niece Cady (Violet McGraw). It doesn't take long for M3GAN to adapt to her new living situation — she quickly befriends Cady and aids Gemma with her parenthood duties.
But unbeknownst to the two is that M3GAN's learning abilities has helped her develop into a silent killer who targets anyone (and anything) that she deems is a threat to Cady. M3GAN soon grows more violent, leading to an epic showdown with a robot and two tenacious human nerds.
M3GAN is clearly no saint. But she's amassed a huge fandom within the online queer community. Shortly after the film's trailer dropped, M3GAN was catapulted into Internet stardom via a series of memes, fancam edits and TikTok clips. There's a video of M3GAN dancing to Beyoncé's "Alien Superstar" before she sashays down the hallway to kill her victim. There's a meme of M3GAN singing David Guetta and Sia's 2011 hit "Titanium" on loop. There's even an ongoing fight between M3GAN and fellow horror queen Annabelle (spoiler: most people believe M3GAN would win).
M3GAN is indeed the internet's newfound queer hero. But how did she get here? And why does her story resonate with so many queer folks? Here's a closer look at M3GAN's icon status and her popularity within the queer community:
What makes a queer icon?
As explained by Vox's Alex Abad-Santos, when it comes to real people, "Pop-culture LGBTQ heroes come in all shapes and sizes, but those who join the pantheon of legends are often revolutionary, sometimes tragic figures who inspire the community regardless of their professed sexual orientation."
Take for example Britney Spears, whose electropop tunes empowered queer fans for years. Although Spears herself is not openly queer, she's continually showcased her support for the community, once by penning a heartfelt note in Billboard's viral Love Letters to the LGBTQ Community and signing an open letter against two anti-LGBTQ bills. Spears' tale of hardship and perseverance, specifically involving her tumultuous career and her 13-year-long conservatorship, also resonated with many queer individuals.
Britney Spears performs during 2001 MTV Video Music Awards – Show at the The Metropolitan Opera House at Lincoln Center in New York, NY. (Kevin Kane/WireImage/Getty Images)
There's actor Judy Garland, whose camp aesthetic and personal tale of suffering struck a chord with numerous gay men. And within the music industry, there's Lady Gaga, Beyoncé, and Carly Rae Jepsen whose songs have also transformed into queer anthems.
In addition, Elliott H. Powell, an assistant professor at the University of Minnesota, told NYLON that queer icons are "those who consistently and publicly transgress boundaries and who push back against racial, gender and sexual norms." Their refusal of the status quo makes them "teachers and guides of nonnormativity; they help us navigate the oppressions of the present, and they help us imagine another world of possibility."
"[Being adopted later in life] resonates for a lot of people in the gay community, the idea of found family."
The idea of "another world of possibility" has diversified our understanding of who or what can be a queer icon. In recent years, fictional movie characters have been hailed as icons due to their distinct fashion, their relatable origin stories and/or no-nonsense attitudes. Many of these characters are non-human and appear in horror  — a genre that has often been linked with queerness. 
Specifically, it's horror's survival elements that have resonated with many in the queer community and their experiences. 
"I think as a teen, your body is betraying you. And if you're queer, you have an extra betrayal. We're like, wait a second, I'm not like the others. How do I fit in?" explained "Queer for Fear" executive producer Steak House in an interview with Salon. "And I think, horror, for as much as it's scary, it also has a lot of survival narratives and ways that we can see ourselves, if society's calling us a monster. We're able to see ourselves in horror movies, too."
What makes M3GAN suited to be a queer icon
Similar to the icons who came before her, M3GAN's tale is one of isolation, struggle and perseverance. An early, glitchy version of her was dismissed as too expensive to develop. Later, as she came into her final form, we see her be dumped, albeit comically, into a pile of teddy bears and children's play toys when Cady attends an outdoor school program. We see her protect Cady and attack her bullies, like Gemma's neighbor Celia's dog, Celia and Cady's bully at camp Brandon. We also see M3GAN ruthlessly fight Gemma, even after her limbs, face and hair are all torn apart.
There's also the relatable elements of "strained family dynamics, grandiose outfits, themes of loneliness that stem back to childhood, being bullied and feeling othered," per The Daily Beast's Justin Kirkland. "M3GAN" screenwriter Akela Cooper further reinforced M3GAN's reputation, saying the film's theme of found family rang true for many queer viewers.
"I actually asked one of my friends who is a gay man about that and he was saying this setup is actually found family, where this little girl has lost her family, and she has to go live with her aunt," she said in an interview with SFX Magazine. "Then this doll is also brought into the situation. That resonates for a lot of people in the gay community, the idea of found family."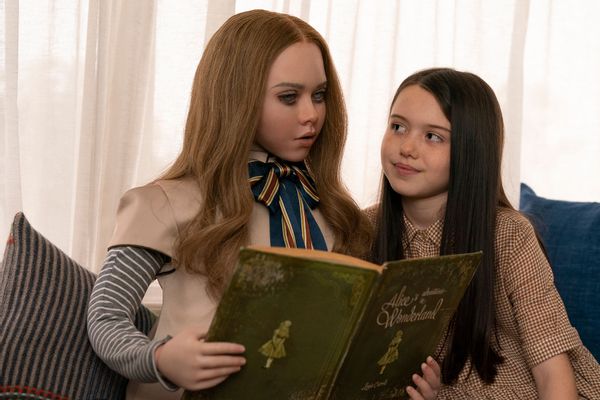 M3GAN and Cady (Violet McGraw) in "M3GAN" (Geoffrey Short/Universal Pictures)
Cooper continued, "Then you get to the dance scene. And it's like, 'Yes! Yes to all of this!' and it's just even better. So I like to think that it is the emotional aspect that pulls people in first, and then M3GAN's awesome dance moves seal the deal."
It's also worth mentioning M3GAN's preppy yet costume-like getup, which consists of a pussy-bow scarf, a beige shift dress layered over a striped long-sleeve shirt and black Mary Janes. Her aesthetic is reminiscent of classic "twee" outfits featured on "Gossip Girl" or worn by Zooey Deschanel's Jess on "New Girl" or the fussiness of certain American Girl dolls. And while M3GAN's sense of fashion is outdated, it's also flamboyant and makes her stand out from the rest.
M3GAN is following in the footsteps of other horror queer icons, notably the Babadook and Octavia Spencer's Ma. The Babadook was first hailed as an icon in the original "Babadiscourse" on Tumblr, which interpreted the storybook character's story as one of queer resistance.  
"[T]he Babadook's new fabulousness seems to align, quite reasonably, with queer readings of better-known beasts such as Frankenstein and Freddy Krueger," wrote The New Yorker's Eren Orbey. "Like those other misunderstood figures, he originated in anonymity, shunned by the traditional folks whom his presence threatened."
M3GAN ascends
In response to "M3GAN," the online queer community posted memes and TikTok edits that joke about but also, celebrate M3GAN. The most popular memes are of M3GAN dancing and cartwheeling to Taylor Swift, Beyoncé, Megan Thee Stallion, RuPaul and Charli XCX. Others praise her performance in the film and poke fun at her many doppelgängers.
M3GAN even has her own verified Twitter account, in which she only types in lowercase letters and uses slang terms like "slay" and "besties." There's also the absurd and outrageous "M3GAN" marketing campaign, which involved several M3GAN cosplayers running around the streets of New York City. Social media videos captured a few M3GANs on the subway and on top of the Empire State Building. Several M3GANs also made appearances on the "Today" show and "The Tonight Show with Jimmy Fallon." 
And speaking of resilience, M3GAN was seemingly destroyed by a screwdriver, she is apparently coming back in a couple years, because you can't keep a good, homicidal doll down. A sequel, called "M3GAN 2.0" is in the works and slated to premiere on January 17, 2025.
Read more
about queer horror:
Denial of responsibility! galaxyconcerns is an automatic aggregator around the global media. All the content are available free on Internet. We have just arranged it in one platform for educational purpose only. In each content, the hyperlink to the primary source is specified. All trademarks belong to their rightful owners, all materials to their authors. If you are the owner of the content and do not want us to publish your materials on our website, please contact us by email – [email protected]. The content will be deleted within 24 hours.