"I feel for Dave personally," Jones said. "Having been through it myself, you understand the feeling. He's a good man and I'm sure he'll bounce back in another capacity.
"For me, that's something I wasn't in control of. The decision was made by Rugby Australia. I can only really focus on the things that I can control. I'm focusing on putting Australian rugby in a good position."
When Jones was let go by England, with a year remaining on his contract, he was free to take another job elsewhere. The RFU did not insert a clause in his severance package to stop him from coaching a rival at the World Cup.
Depending on what happens in the pool stages, the Wallabies could play England in a World Cup quarter-final. England, under Jones, knocked Australia out of the 2019 World Cup quarter-finals.
"I'm not thinking about England, I'm thinking about retribution because the most important thing is to get Australia playing really well and consistently well," Jones said.
"If we happen to meet England on the way, well and good. I might have a conversation with some of the players and not with the administration. Then we'll get on with the battle. You could maybe pick it now … the quarter-final [between Australia and England] could be in Marseille.
"Maybe age helps but once the chapter closes, it closes."
The Eddie Jones Q&A
Question: Congratulations on the appointment Eddie. When did discussions begin with Rugby Australia? It has been reported they began some time ago.
Eddie Jones: "We've been talking for probably the last 12 months about 2024 – about the concept of me coming back and being involved in Australian rugby. No specific role. I always had the desire to want to come back. We met a couple of times. Obviously, the situation changed and it wasn't until Saturday night that we agreed I'd come back for 2023."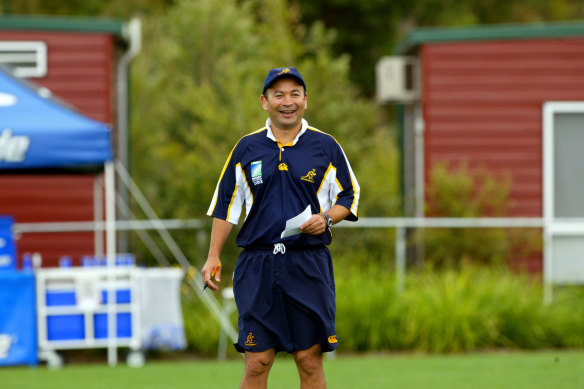 Q: When you were sacked by England last month, did you think a return to the Wallabies could be possible for this year?
EJ: "No. It was probably the furthest thing from my mind. I've got some stuff going in Japan. I was approached by a French club. In the back of my mind, I did think 2024 with Australia was a possibility. I never divorced Australian rugby, they divorced me. Now we're re-marrying. Who said you can't go to the altar twice?"
Q: You have also been assigned to oversee the Wallaroos program. How do you expect that to work?
EJ: "Initially it was more about possibly doing a director of rugby role with Australia and oversee Australian rugby. I'm keen to help. That's the big thing. I've accumulated a fair bit of experience over the last period of time and I want to help Australian rugby get really strong. I see myself mentoring the head Wallaroos coach there, trying to help him prepare the team in the best way they can. I'll be working with the Super Rugby coaches. They have got some great young coaches there. Brad Thorn, [Darren] Coleman at the Waratahs, [Stephen] Larkham, [Kevin] Foote down at the Rebels and the Force coach. Part of it will also be women's rugby, which is such a growth area at the moment. To be able to help in that area will be fantastic."
"I want to be the fittest 63-year-old coach in the world."

Eddie Jones
Q: Where does the motivation come from to keep doing what you do?
EJ: "Coaching-wise I've been lucky enough to have a bit of success and failure. What I want to do is come back to Australia, which is obviously my home, and leave Australian rugby in a better place. There's been some good things that have happened over the last period of time and there have been some difficult times. We want to leave rugby in a better place and be competing against those major sports. We want to be up there again as a major sport."
Q: Provided things go well, you will coach the Wallabies at the 2023 and 2027 Rugby World Cups, as well as the 2025 British and Irish Lions series. How much does that excite you?
EJ: "I'm speaking like a coach here, the only thing I'm really thinking about is the next World Cup. Even the Rugby Championship, we've got South Africa away [in July]. That's always a pivotal game to get that right. We've got five games leading into the World Cup. We want to win the World Cup. Dave's left the team in a good position to win the World Cup. I think they showed a lot of courage on the last tour to Europe and now we've got to build on that."
Q: How do you think players will react to your appointment?
EJ: "For the players, it's always a difficult time. Players who had really strong relationships with Dave will be upset. There will be players who didn't and will be looking forward to the opportunity, even any player who is playing Super Rugby or is playing club football. To win the World Cup, we need everyone to work together. We need community rugby working together, we need the clubs to be working together. We need Super Rugby to be working together. It's an opportunity for any player to put their best foot forward. Players select themselves. If you play well enough, you'll get selected."
Q: Do you have enough time to get the Wallabies firing to perform at the Rugby World Cup?
EJ: "Well it's not going to be like a Bart Cummings preparation for a Melbourne Cup. It'll be more like Tommy Smith getting out of the gates quickly and getting going. We're going to find out a lot about the team. We're going to have to build cohesion quickly and make some nuanced changes to the way they play. That always comes with a new coach. We've got enough time to do that. Plenty of time. The coach who had the most influence on me was Bob Dwyer. I always remember he said when I started coaching 'if you can't change a team in a week, you can't coach'. Two months is a luxury."
Q: What is your plan for assistant coaches? Will you make changes or keep the coaches in there now?
EJ: "The big thing for us is to put together a coaching team that can win the World Cup. That's the No.1 priority and that's the criteria we judge everything by. All the staff who are in place now, when I get back to Australia on January 29, I'll be meeting with the staff, chatting to them and then hopefully making an educated decision on who can take the team forward."
Q: You and Scott Wisemantel have worked together at many teams over the years. He has just resigned as Wallabies attack coach. Can you convince him to come back on board?
EJ: "At the right time I'll have to have a chat to him and see where he is. I think he's made a decision based on his family. A change in the coach is not going to change his family situation."
Q: How do you think you'll be perceived by the Australian rugby public?
EJ: "I think if we win, really well. If we don't win, not so well. Fans want to see a winning national team. My job is to ensure we get the most out of the playing group we've got. We want to find other talent and bring it through. Then we want to engage the fans by being a team in the community. We'd like to do things that connect us with the community. At the end of the day, you've got to win. That's what people want to see. The Australian cricket team is popular when they win. When they don't, they're not too popular."
Q: Last year a Wallabies fan labelled you a 'traitor' at the SCG. How did you take that?
EJ: "I think there were 45,000 fans there and there was one drunken bloke who later apologised afterwards. I think the Australians probably enjoyed me coaching England [and] seeing an Australian do well in what is seen as the empire. Now to come back and coach Australia, I think I'll connect pretty quickly with the Australian rugby community. I was brought up at the Randwick club. One of the great things post the tour [with England in July] was to go there and watch Randwick play in the afternoon in the sun. I saw that young guy Ben Donaldson play against Tane Edmed, who are two of the bright young 10s in Australian rugby.
Q: Do you know your best Wallabies XV?
EJ: "I've got lists of paper here with various versions of teams. I'm starting to think about that but obviously we've got Super Rugby coming up and the opportunity for players to stand forward is there. We'll be working closely with the coaching staff once we finalise that to ensure that we uncover any talent that is missing. I'm sure Dave and his coaching staff have done a good job with that. There will be a lot of new introductions. I might have to take some face cards to make sure I get the names right."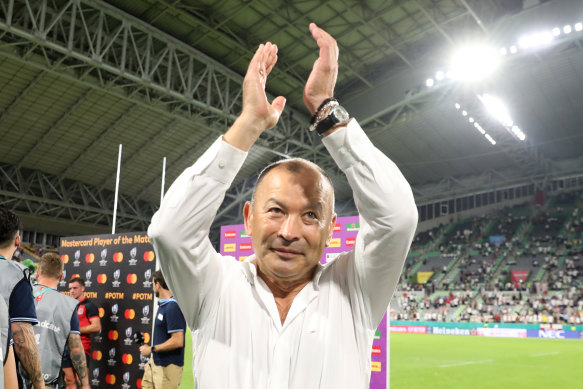 Q: Before the 2003 World Cup you were instrumental in poaching rugby league players to the 15-man game. Can we expect to see that again?
EJ: "We always want to develop players in rugby first. That's the No.1 priority. No.2 is to get back players who were lost initially from rugby to rugby league due to the financial inducements that league are able to give the players. We want to get players back who are lost. Thirdly, at the right time, is there an opportunity to secure some talent we don't have in rugby from league? I think there is a strategic plan that needs to be put in place but the first thing is to retain the talent we do have.
Q: Are there players who fit the criteria?
EJ: "Yeah, there's three that come to mind mate. All were Australian schoolboys and have done well in the NRL. I'm sure the allure of playing in a home Rugby World Cup might be something to attract them back.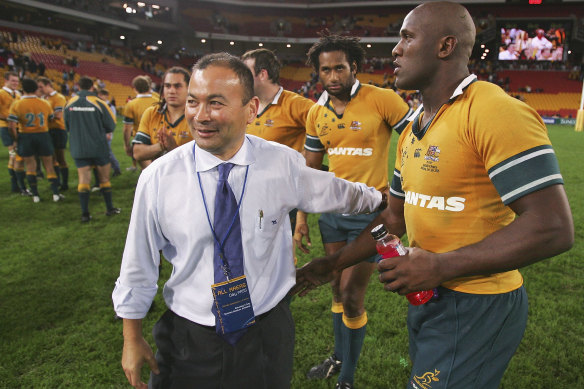 Q: Is this a game of guess who?
EJ: "[Laughs]. You can [guess] but you're not going to get many answers from me."
Q: The Wallabies could play Argentina in a World Cup quarter-final. They're coached by Michael Cheika. That would be some yarn. Have you thought about that?
EJ: "[Laughs]. I had an offer from Cheik to be his assistant coach for Lebanon [in rugby league], so I still might hold him to that."
Q: Do you see a bit of yourself in RA chairman Hamish McLennan? You're both quote the combative figures. What did you like about McLennan and RA boss Andy Marinos?
EJ: "Both Hamish and Andy are 100 per cent committed to get Australian rugby back to a better place. I think they're quite bullish about how they go about it. I think Australian rugby needs people like that. [Former ARU boss] John O'Neill and I didn't have a great relationship, but I thought he was fantastic as the CEO. When he made the statement that we want rugby to be the No.1 winter sport in Australia, it set a vision in place of where we wanted to go as a sport. Hamish and Andy are so committed to getting rugby back to that dominant spot in Australian sport. The way they go about it probably won't please everyone, it never does. Their commitment is of the highest level."
Q: Should the Wallabies have a spiritual home? Rennie based the Wallabies on the Gold Coast. Could we see a return to Coffs Harbour?
EJ: "I'll have to talk to staff who have been in place. I'd like to see the Wallabies have a base. You need to have a good training base where during training weeks you don't have to travel. You've got a hotel and you can train two or three times a day. In Test weeks, where possible, I'd like us to get out in the community a bit more and train at schools or rugby clubs.
Loading
Q: There was a high injury count last year in the Wallabies setup. What's your plan around strength and conditioning heading into a crucial year?
EJ: "There are plans in place to be more coordinated with the Super Rugby teams with the preparation of the top 40 players. I'm sure that will happen and I'm sure I'll get around to Super Rugby clubs quickly when I get there to ensure we have that cooperation. We need to make sure at the Wallabies we have the highest quality strength and conditioning staff. There is plenty of good staff in Australia. I know a few."
Q: Lastly, what is your biggest challenge this year, for everything to align and fulfil the dream of winning the World Cup.
EJ: "The biggest thing is to make sure we work out what are the areas that are most important to improving. Everyone will have an opinion on Australian rugby or the Wallabies and there will probably be 500 things. It's about picking out the one, two or three things that will make the biggest difference. It's about getting alignment on that with players and the coaching staff and then we dive into those areas with the utmost relentlessness and absolute pursuit of excellence. If we get that right, the team will continue to improve and grow and we'll start the Rugby Championship off on a good note against South Africa. What a good way to start off. South Africa is a side that we know are going to play set-piece to set-piece and kick the ball in the air. It's almost the opposite of how an Australian team wants to play. We'll need to be at our best to beat them."
Watch all the action from the Six Nations with every match streaming ad-free, live and exclusive on Stan Sport from February 5.
Denial of responsibility! galaxyconcerns is an automatic aggregator around the global media. All the content are available free on Internet. We have just arranged it in one platform for educational purpose only. In each content, the hyperlink to the primary source is specified. All trademarks belong to their rightful owners, all materials to their authors. If you are the owner of the content and do not want us to publish your materials on our website, please contact us by email – [email protected]. The content will be deleted within 24 hours.