Fundamentally, EA Sports FC 24 is not a new franchise.
It's built on the bones of what would have been FIFA 24, so as much as it's billed as a new era for EA Sports football, like every yearly update it's an iterative step with a few showpiece features.

To see this content please enable targeting cookies.


However, with that said, the new Playstyles mechanic is one of the freshly badged series' most visible and exciting additions in a long time – while also pushing the pendulum further away from stoic simulation and into the blockbuster realm of sports entertainment.
In that way, EAFC 24 mirrors some of the trends we see in real life football. It's absolutely plastered with adverts – for Marvel, for Nike, for Instagram – in a hauntingly subliminal way, all flashing background images and surreptitious logos that sear themselves into your eyelids. It reminds me of the fruit machine zone in a motorway service station.
Then there's the long-running, unanswered question of "micro"-transation points, serotonin-spiking random packs and the wealth of pro-player and creator-led content which normalises spending vast quantities of coins to open packs, just for the sake of opening them.
EA Sports has also mastered the drip feed of daily objectives and seasonal goals to maximise the amount of FOMO you feel for taking a day off. Mix that with an intense and exciting gameplay loop which, when pitched at the right difficulty, has a lizard brain-tickling competitive edge that asks you to play one more game about as politely as Jose Mourninho asks for an opposition player to be booked on the touchline. The end result is a football game that has the potential to be endlessly engrossing and all-consuming.
Mechanically, fresh-out-of-the-box EAFC 24 feels very focused on momentum, with a much greater emphasis on what a player's body is doing independently of the ball. This is likely down to the revamped Hypermotion V tech where EA used cameras positioned around the pitch of Champions League games to capture the field as a virtual space and grabbed animations from the real-life movements. It's impressive and, combined with a limited visual refresh (where players who don't have a proper face-scan seem to look better in general,) pushes the whole experience away from feeling samey to just a bit similar.
There's an interesting metagame in the balance between big, fast, and strong players who can cover ground extremely quickly and bully everyone off the ball and technical dribblers who have an incredibly tight touch to weasel their way through traffic like never before. This plays into the continued introduction of skill-gap based mechanics, with "precision passes" and "controlled sprint" joining timed finishing, power shots and technical left-stick dribbling. EAFC 24 is constantly smashing together one-on-one battles and challenging you to use one of the tricks in your arsenal to snake your through the scrum of athletic bodies between you and the goal.
Then there's the Playstyes. These are a suite of essentially footballing superpowers which aim to give players more personality, even when they've got similar stats. The Power Shot playstyle lets you rip off total howitzers. Quick Step lets your pace merchants add insult to injury by rocketing away from slowpokes even faster. And Anticipation lets defenders keep hold of the ball after a tackle without it pinging back out to the opposition.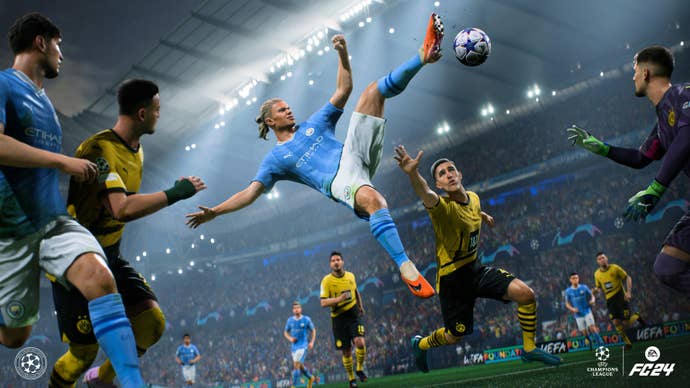 Like FIFA, the EAFC 24 meta won't be the same at the end of its yearly life cycle as at the start, and how staid EA are with giving players these bonuses during Ultimate Team special events will have a big role to play in that. But I have some inklings that adjustments might have to be made. Fast and agile players with acceleration playstyles are so explosive that they might just be able to roadrunner around everything. Power shots, on the other hand, might travel so fast that you can just wallop them in from anywhere whenever you can carve out an inch.
All together it's a cacophony of information to soak in, digest and react to moment-to-moment. A real adrenaline rush.
On the Career Mode front, EAFC 24 clears the low bar of functionality to be better than FIFA 23 (I've written before about how the player performance ratings were broken for me across multiple saves to the point where playing properly was impossible). But to judge it on its own merits, I've found the experience as compelling as the football everywhere else so far.
It's still not as reactive as it could be, or would be in a dream-game scenario, so incongruous and repetitive questions mean you're skipping through press conferences before long, but not all of the background elements feel totally ancillary.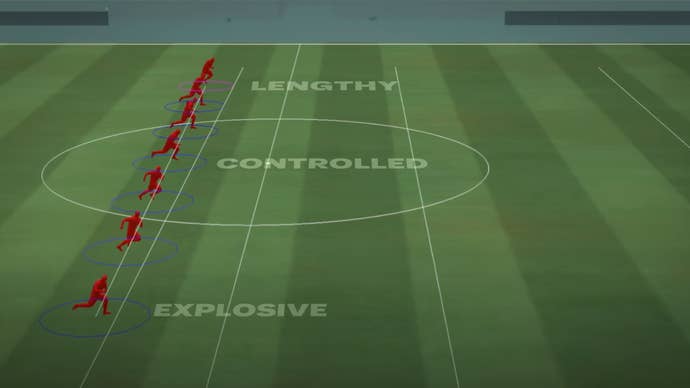 Rather than being another screen to simulate through, training drills before a match now give selected players a temporary Playstyle to utilise in the next game. This combined with slightly deeper club building, where you choose a coaching philosophy like Tiki-taka or Gegenpressing then hire staff to teach it to your players for a stat boost, add to your managerial to-do list and break up the Career Mode loop that's been almost identical for a while.
EAFC 24 might go about achieving its goals in a slightly different way to the FIFA series, but it lands at the same end result. The same tempting sticker book collect-a-thon and absorbing gameplay carousel makes EAFC 24 a virtual footballing platform that demands your attention and is difficult to put down. Emulating the signature moves of your sporting heroes with box-office Playstyles is a highlight, but there will always be questions about whether the mechanic can stand up to the test of millions of players probing for overpowered exploits.
---
Review-in-progress note: We're leaving this as a review-in-progress for now until we've had a chance to play Ultimate Team against a better sample of real players. We'll put a proper score on EAFC 24 shortly!
Denial of responsibility! galaxyconcerns is an automatic aggregator around the global media. All the content are available free on Internet. We have just arranged it in one platform for educational purpose only. In each content, the hyperlink to the primary source is specified. All trademarks belong to their rightful owners, all materials to their authors. If you are the owner of the content and do not want us to publish your materials on our website, please contact us by email – [email protected]. The content will be deleted within 24 hours.