These days, Monolith Soft is well known for being one of Nintendo's finest internal teams, with the Xenoblade Chronicles games delivering some of the finest open-world JRPG goodness available. Long before the company was acquired by Nintendo, however, some of the first projects it produced were the two Baten Kaitos games, both of which were originally created to address the lack of RPGs on the GameCube. Unfortunately, neither title sold very well, but they've now been given a second lease on life on modern hardware with Baten Kaitos I & II HD Remaster. Though neither of these games prove to be exceptional, they're still enjoyable refreshes of an interesting phase in Monolith's past and stand as welcome additions to the Switch's enormous RPG library.
The narratives of both games here — Eternal Wings and the Lost Ocean (2003) and Origins (2006) — are related, though just isolated enough that you can play either release first without feeling like you're missing out too much on important context. Baten Kaitos follows a somewhat unlikeable protagonist named Kalas, a self-interested sellsword who is hellbent on getting revenge for the deaths of his brother and grandpa. Early on in this quest, however, he inadvertently releases an old seal placed on the God of Destruction, Malpercio, kicking off a race to get to the other seals before the evil Alfard Empire can use them to fully unleash chaos across the world.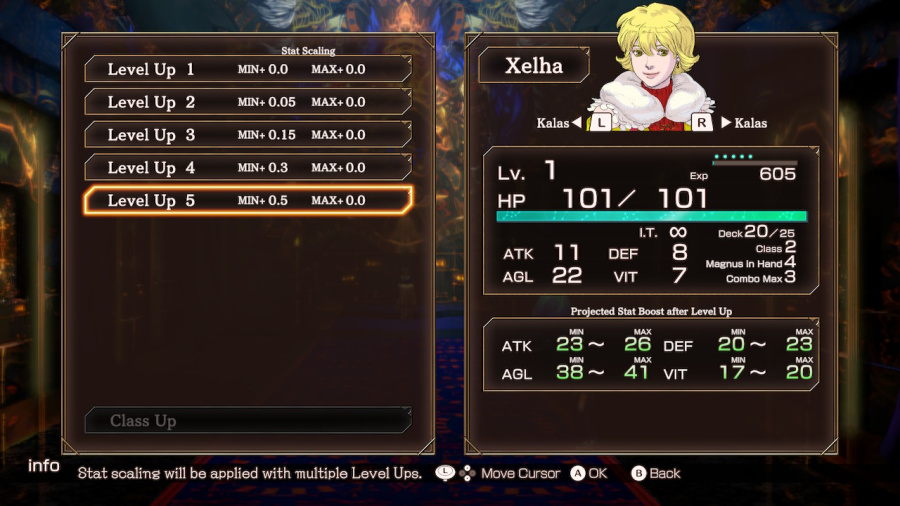 Baten Kaitos Origins is set 20 years before these events, placing you in control of Sagi, a member of an Alfard Empire black ops team called the Dark Service. Sagi and his unit are initially given a mission to assassinate the Alfardian emperor, but when they infiltrate his chambers, they find that another assassin has already finished the job, framing Sagi and his unit for the death and branding them all as traitors. After narrowly escaping, Sagi and his gang set out on a journey to clear their names and unravel the greater political conspiracy they find themselves caught up in.
Though both games can be a bit plodding in how their narratives unfold, we nonetheless enjoyed the tales that are spun here, especially given how neatly the two games eventually tie into each other. And though there are plenty of tired JRPG tropes that are played completely straight, the underlying themes undeniably have that distinctive philosophical edge that Monolith Soft has become known for over the years. Only time will tell if the success of this remaster leads to any further projects (Baten Kaitos DS revival when?), but we'd certainly like to see more stories set in this unique floating world.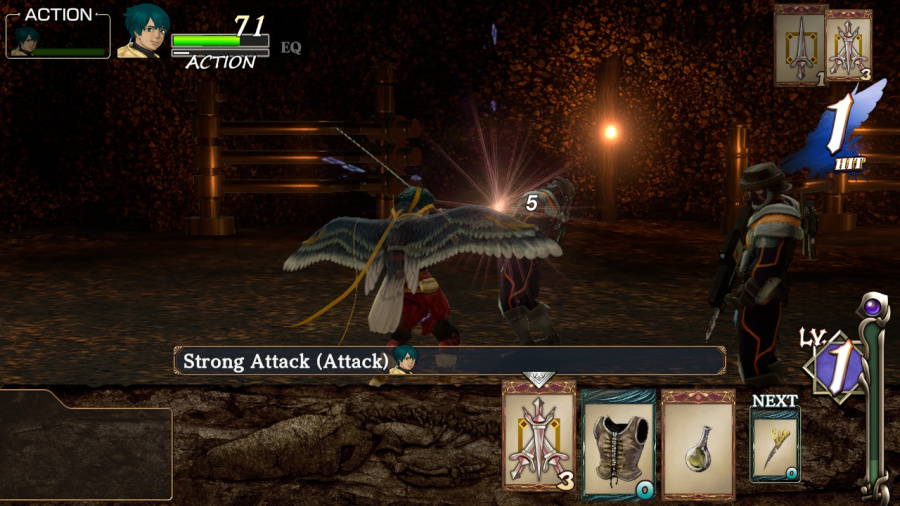 The main gimmick that sets the Baten Kaitos games apart from their genre peers is the heavy focus on cards, referred to in-game as 'Magnus'. In this world, any item's 'essence' can be extracted and imprinted on blank cards, which gives you a convenient in-universe reason for having a seemingly bottomless loot bag filled with all the junk that you hoard over the course of the adventure. When exploring the world, you'll often come across things you can capture—such as a rainbow or sitting water—and you can then use these captured essences as a quasi-item to solve a simple puzzle, like using the water to put out a fire. In a cool (though occasionally annoying) twist, some of these cards even have a shelf life that decays in real time, such as yogurt in your bag eventually turning into cheese or lava cooling off and turning to stone.
Carrying the card aesthetic onward, combat in Baten Kaitos is somewhat similar to the battle systems present in the Mega Man Battle Network series and Kingdom Hearts: Chain Of Memories, fusing intense active combat with deckbuilding mechanics. Each action you can take in the heat of combat, from swinging your weapon to chugging a health potion, is represented by a card you need to have placed in your deck in advance, and a few of these cards are pulled into your hand each time your turn comes around. To get the most out of your turn, you want to pull off the longest combos you can, and these are governed by the 'Spirit Numbers' attached to each card. So, if you can activate a straight (cards in ascending or descending numerical order) or pairs of cards with the same number, you'll get to use multiple cards in a row and dish out a lot more damage.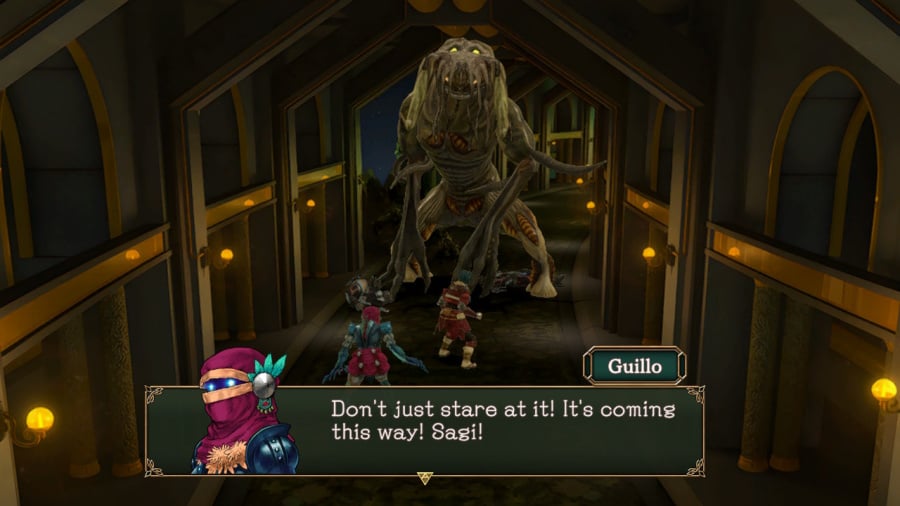 It can feel like a lot to juggle, yet the main challenge of battles comes not just from strategizing over which cards to play and in what order, but in making these decisions fast. Battles follow an ATB-style turn order, so taking too long to stress over what cards you want to play will all but guarantee that your enemy will get in some extra turns. And even when you're in the middle of your turn, you're only given about two seconds after playing the first card to add on any others you want to use for the combo. Sometimes it can feel like this focus on fast action can get in the way of the strategy that comes with deckbuilding, but it mostly does a great job of keeping things moving and constantly putting the player just a little off balance.
While this combat system remains largely the same between the two games, there are some important tweaks that Origins made to streamline and simplify things. For example, Origins no longer has you playing cards to block attacks individually every time the enemy takes a turn, instead you can play a defensive item at the beginning of your turn that'll cause your character to automatically block a certain number of blows when they're attacked.
And where the first game had myriad unique weapons you could equip that all had different elemental effects and damage numbers, Origins has a simple 'weak, medium, and strong' system that makes it way easier to pull off combos. Combat overall just feels better to play in Origins due to this simpler (though still in-depth) setup, but some may still prefer the more chaotic and unrefined approach of the first game.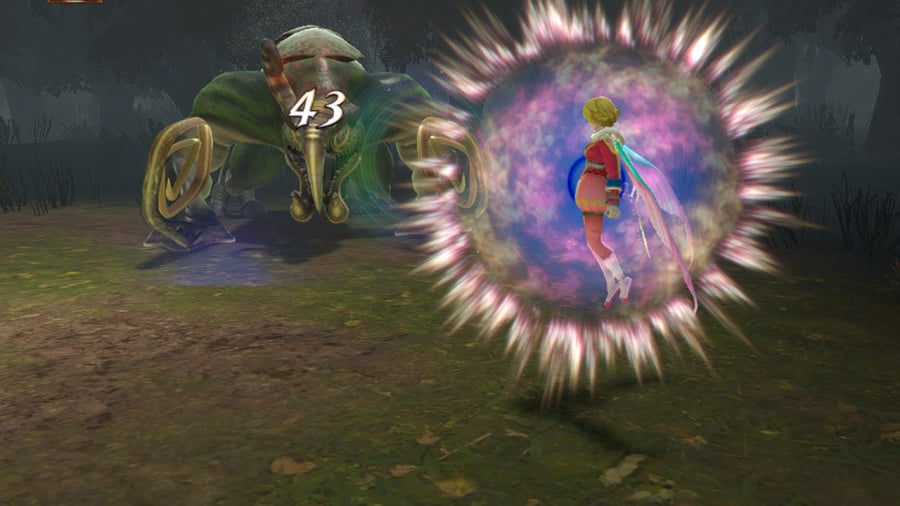 Despite being enjoyable, there's still some antiquated game design here that highlights this duo's age. An early section in Origins sees you visiting a village in which progress is completely halted until you talk to every NPC that lives there, and if NPCs are engaged in conversations with each other, you have to repeatedly listen in on that same conversation for each NPC participating in it. You're not actually told to do this at any point, however, and your companions imply an entirely different objective is needed to progress here, which led to us confusedly wandering around town for 10 minutes searching for a villager who turned out to not exist. Hokey moments like these don't necessarily ruin these games, but they are persistent enough to noticeably drag down the overall experience.
To help sand off some of these rougher edges, this remaster adds a new pause menu that lets you do things like increase the game speed up to 300%, disable enemy encounters, and activate auto-battle or infinite damage. If you want, you can activate all the buffs and simply breeze straight through the game, though we most appreciated how it lets you optionally cut down on the tedium of fights, like saving you the pain of refighting the same four enemies that respawned in a room that you exited and re-entered.
The quality-of-life features aren't the only change here, as the graphics have also gotten a nice bump to make this pair shine as brightly as they can on modern hardware. Though both games heavily feature the flat, pre-rendered backgrounds that were common in many PlayStation-era RPGs, their implementation here feels a lot less jarring than in, say, the remaster of Final Fantasy VII due to the backgrounds being a much higher resolution. The 3D models have also been redone, and while they still look just a little stiff when in motion, they have lots of that retro charm.
Unfortunately, not everything in this remaster is necessarily an improvement. A notable change here is the removal of the English audio in both games, and though the first game is legendary for having one of the worst RPG dubs ever, the second game was a massive improvement in this area. The Japanese audio is fine, but considering that both English dubs have already been completed and could've been implemented here, it feels a little weird they weren't included as an option.
Performance is also a bit of a sticking point here, with an uncapped frame rate that oscillates quite a bit between 30 and 60 FPS. Overall, the first game feels like it performs worse than Origins, but the fact that either of these sixth-gen RPGs struggles with inconsistent performance is quite disappointing.
Denial of responsibility! galaxyconcerns is an automatic aggregator around the global media. All the content are available free on Internet. We have just arranged it in one platform for educational purpose only. In each content, the hyperlink to the primary source is specified. All trademarks belong to their rightful owners, all materials to their authors. If you are the owner of the content and do not want us to publish your materials on our website, please contact us by email – [email protected]. The content will be deleted within 24 hours.