Historically speaking
The chronological technique of printing fabrics emerged around the Indus River in the Sindh area significantly about 4000 years ago. The fabric originated its name from the Sanskrit word 'A-jharat – that which does not fade or 'Azrak' the Arabic word for blue could also fiddle a role in the name.
Historiographers believe the fabrics excavated at sites like Fustat in Egypt, were mainly sourced from India, which was cultivated around the Indus River in Sindh Area since the river provided washing and dyeing fabrics in indigo to the specific community living by the riverside. Anecdotes have it that Ajrakh printers are descendants of King Rama.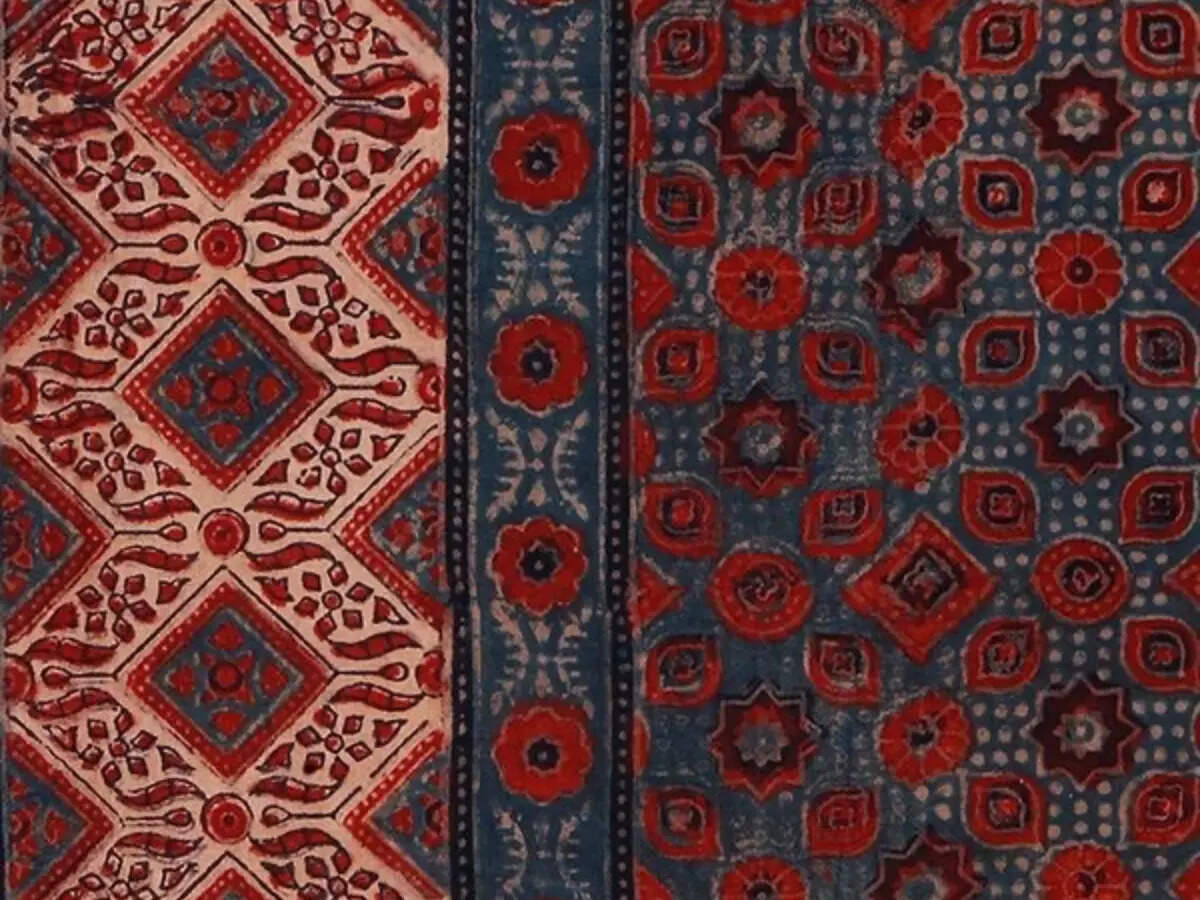 "Kshatriya" ( Hindu word for the warriors) became "Khatri" and they came to Kutch from Sindh around 400 years ago. As per the records, kutch ruler Rao Bharmalji invited craftsmen to satisfy the growing necessities of the nobles and other people at the royal court. A pinnacle of a King-Priest, uncovered at a site in Mohenjo-Daro shows him draped in this fabric, which portrays the earliest use of Ajrakh. It had a trefoil pattern printed on the garment believed to be the 'Kakkar' of cloud pattern in Ajrakh printing. Similarly, the geometry of the trefoil is noticeable in the existing Ajrakh patterns. Holding its solidarity for 4000 yrs and infatuation with ancient barter trails that have been in the bloodstreams of mystically spirited gypsy souls from the incredible desert landscape of the Rann of Kutch.
It's been created with the hands and skills which are known for mastering the dry heat of summer, frozen cold withered weather of winter and dusty translucent gusts witnessing dances in the dunes under silver moon, even maze run of the wasteland when the sun covers the sand with its golden glaze. Holding the essence of a gypsy soul of kutch, Ajrakh or Ajrak is similarly soothing in summers, warm in winters and easily enduring for many washes for years to sustain. Another story behind the name and its mythology revolves in the villages of kutch is that A king grew so fond of his bedspread when they used these juxtaposition printed fabrics that he insisted his maids let it stay on his bed for more days, he used to mutter in kitchy language saying "aj rakh" ( aj jo di rakh), the phrase which went on to be used to name that uniquely printed fabric as Ajrakh.
Ajrakh printing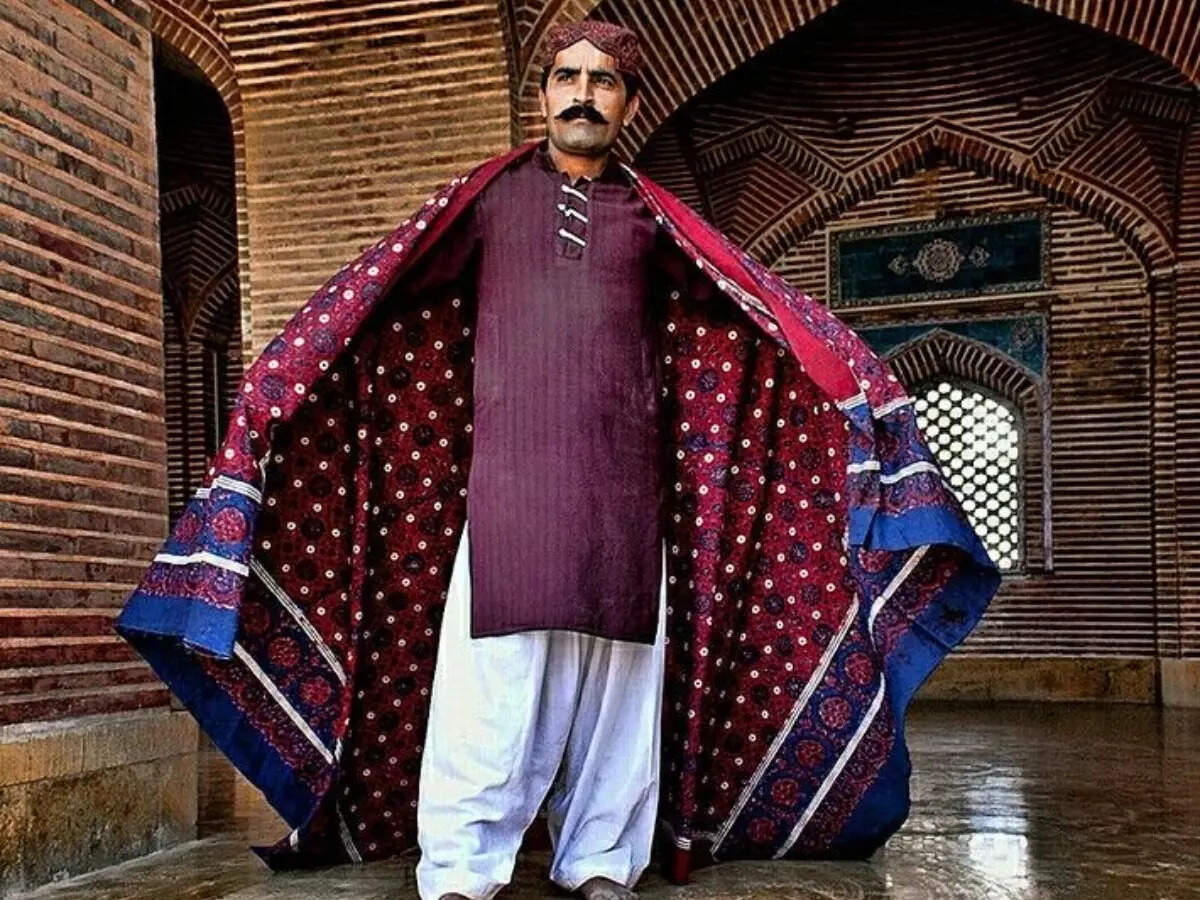 An ancient craft dates from the earlier medeiveal times, practised by the Khatri community, inhabiting on the banks of river Sindh ( Indus in present-day Pakistan). This community migrated to Kutch from Sindh in the 16th century. They were invited to settle in the barren uninhabited ground, along with dyers, printers, potters and embroiderers. The dyers were Khatri brahmins. Two generations later they converted to Islam and settled in Dhamadka for its vicinity to a river in which they scrubbed their fabrics. But after 400 yrs around 1989, the river dried, and waterlevels from wells and tanks continued to fall. After a massive earthquakein kutch in 2001, the block printers were forced to relocate. They settled in Ajrakhpur, a village built in coordination with relief NGOs. There are over one hundred families block printing inside 30 official workshops; almost all of the families in Ajrakhpur generate their primary income from Ajrakh.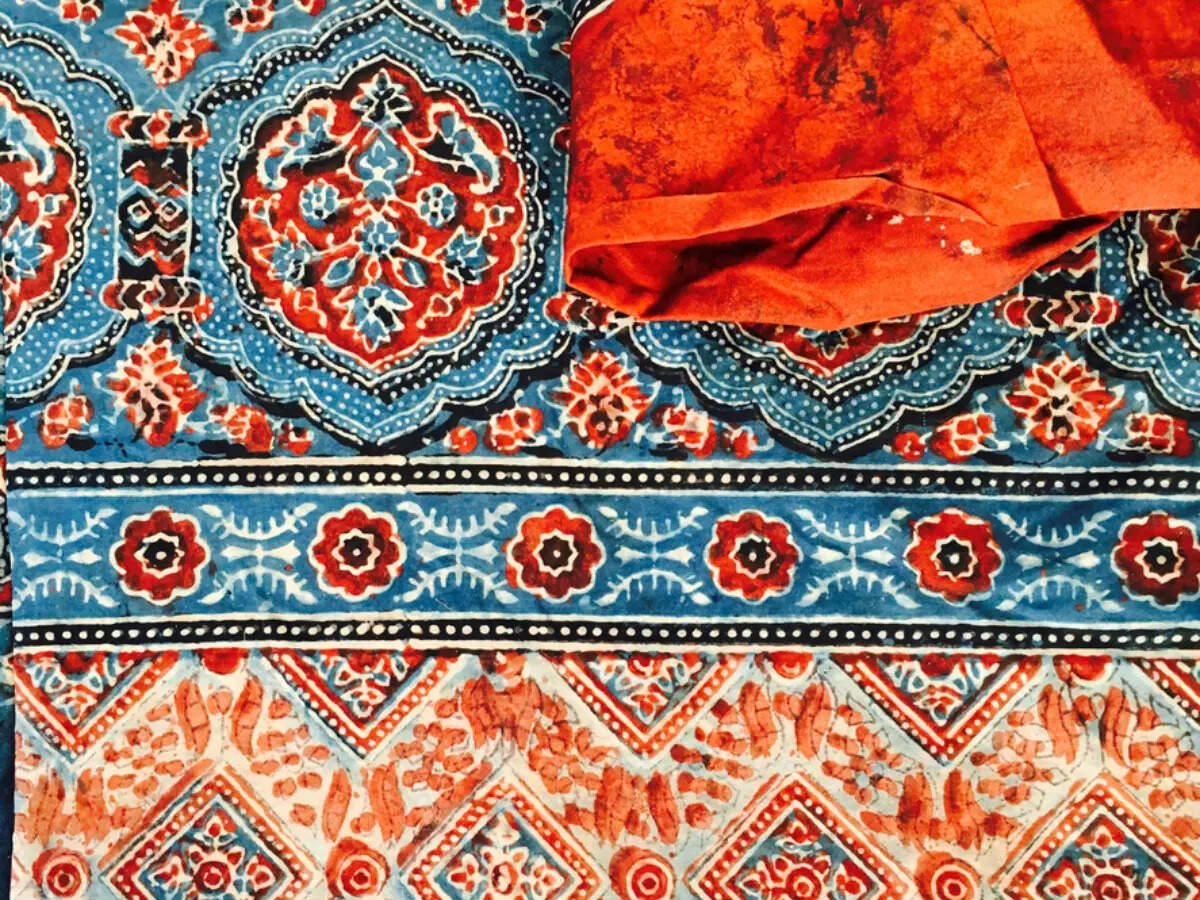 Today the Ajrakh traditions are maintained in Kutch, and in khavda, Dhamadka and Barmer in Rajasthan.

Ajrakh is a handmade wooden block printed textile that is resist-dyed with all organic pigments, Including indigo and madder. It takes mastery and patience to develop a perfectly printed Ajrakh. It goes through nearly 14 to 16 stages of dyeing and printing, which takes about 14 to 21 days to complete. The resulting cloth is soft against the skin and striking in appearance. If the same techniques are used in rich fabrics it transforms into jewel-like grand appealing to the eyes. The concept of creating this textile plays an important role in total harmony with the environment, where the sun, river, animals, trees and mud are the natural entities surrounding the production. It's a synergy between handloom textiles and vegetable dyes that creates magic. Using natural skills is the ancientest culture of textiles in India and is one of the most intricate and sophisticated methods of printing.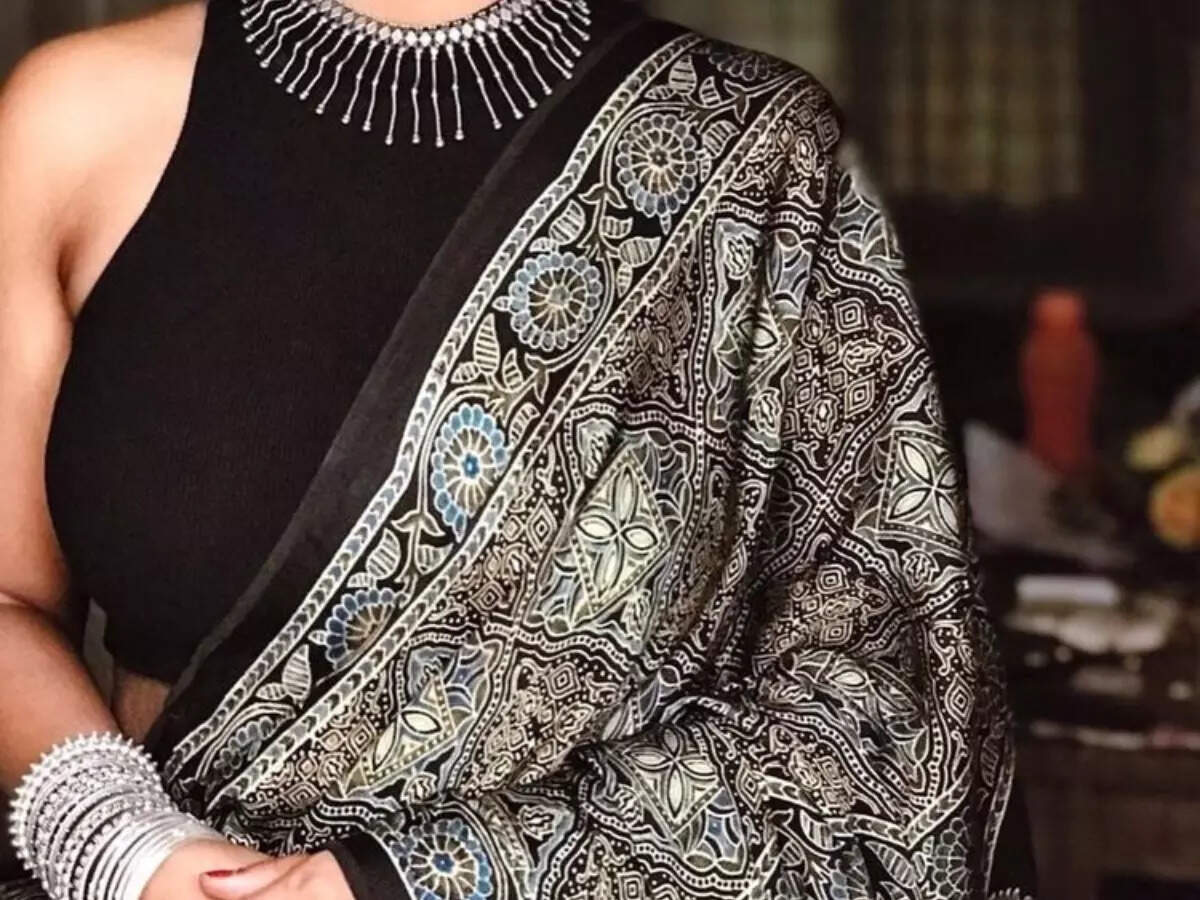 Ajrakh printed cotton is traditionally worn by the pastoral maldhari community called Rabari. Apart from padagis, shawls and lungis, the women wear printed skirts, and pleated blouses and use Ajrakh as bed covers and blankets. Ajrakh is said to signify the Universe. Because of the use of colour palate. Colour red for earth( muddy ground), black for darkness (nightfalls), white for clouds and blue for Universe itself. Think moonless,Think midnight, think darkness.The star spangled the atmosphere, against a stark blue black background. This is what ajrakh is equated to.Coming from centuries-old chronology and sustainable methods, this textile has survived through numerous evolutions and civilizations.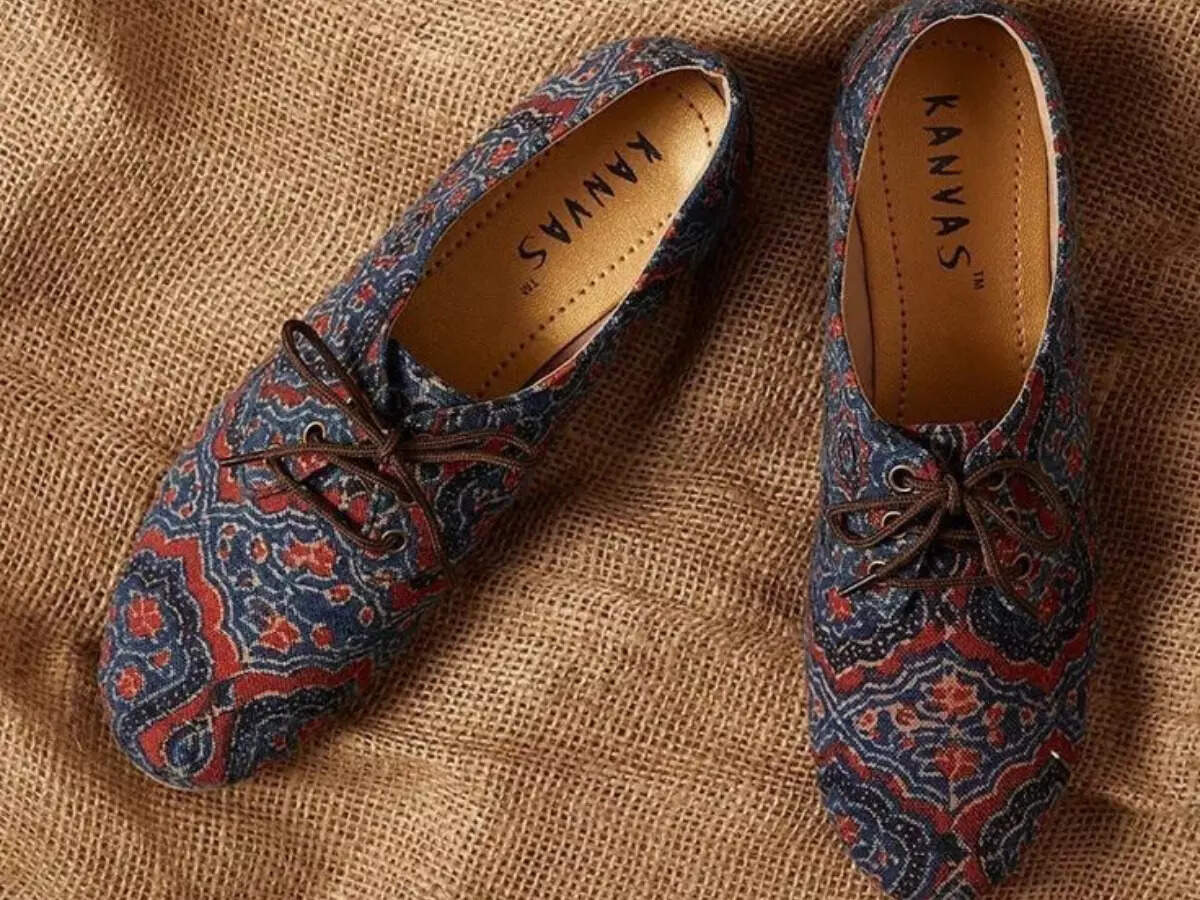 Today many well-known designers and artists are using Ajrakh in contemporary fashion through their couture collection in high-end silk, satin and European fabrics while ready-to-wear has adopted Ajrakh in cotton, muslin and tropical weather-friendly fabrics. From handbags, and shoes to wall art and home linen, Ajrakh has converted into its hybrid version for the next generation to wear and adore in many modern shapes and silhouettes.

Denial of responsibility! galaxyconcerns is an automatic aggregator around the global media. All the content are available free on Internet. We have just arranged it in one platform for educational purpose only. In each content, the hyperlink to the primary source is specified. All trademarks belong to their rightful owners, all materials to their authors. If you are the owner of the content and do not want us to publish your materials on our website, please contact us by email – [email protected]. The content will be deleted within 24 hours.