**This article contains spoilers for Season One of HBO's House of the Dragon.**
In what would be the final dinner of the sickly King Viserys, Aemond Targaryen makes his intentions for power less than subtle in HBO's House of the Dragon. Aemond makes a toast to his relatives that is little more than a thinly veiled threat, one that makes it clear the young prince doesn't plan to wait long to realize his political machinations, which will come at the cost of his half-sister Rhaenyra Targaryen's blooodline.
Related: House Of The Dragon: Who Is Helaena Targaryen?
With such bold intentions, the political turmoil Westeros finds itself in at the end of Season 1 seems to have been an inevitability. Here's what happened during the final dinner of King Viserys.
During what would be King Viserys' final dinner before his death in House of the Dragon episode 8, "The Lord of the Tides," Viserys had arranged the dinner gathering in the hopes of burying old wounds and leaving his family as a loving and united group to rule over the Seven Kingdoms. During a round of toasts the family makes towards one another, Aemond takes the opportunity to deride his half-sister and her two children, Jacerys and Lucerys Velaryon, calling them "Strong Boys." While on its surface, this is merely a compliment to his younger family members and their potential to become great leaders for their houses, it is also a veiled threat that ties into the boys' heritage.
Related: House Of The Dragon: Who Is Aegon II Targaryen?
The two children are supposedly the blood sons of Laenor Velaryon, of House Velaryon. House Velaryon is a powerful bloodline that is distinct for darker skin complexions and uniquely bright white hair. Notably, neither Jacerys nor Lucerys have these physical features, despite their father being a full-blooded Velaryon. This has led to rumors that the two boys are bastard children, born out of wedlock and fathered by Ser Harwin Strong, a knight of House Strong.
If these rumors were to be confirmed, both boys' claim to the Iron Throne as next-in-line to their mother would be put into jeopardy, as would their lives. By so openly alluding to their controversial parentage, Aemond Targaryen is making it clear to them and the assembled family members that he does not care about the two boys' lives and that he does not see them as legitimate heirs to their house's power and influence. Such a bold threat would prove to be a warning to the coming storm that would plague Westeros.
An Inevitable Conflict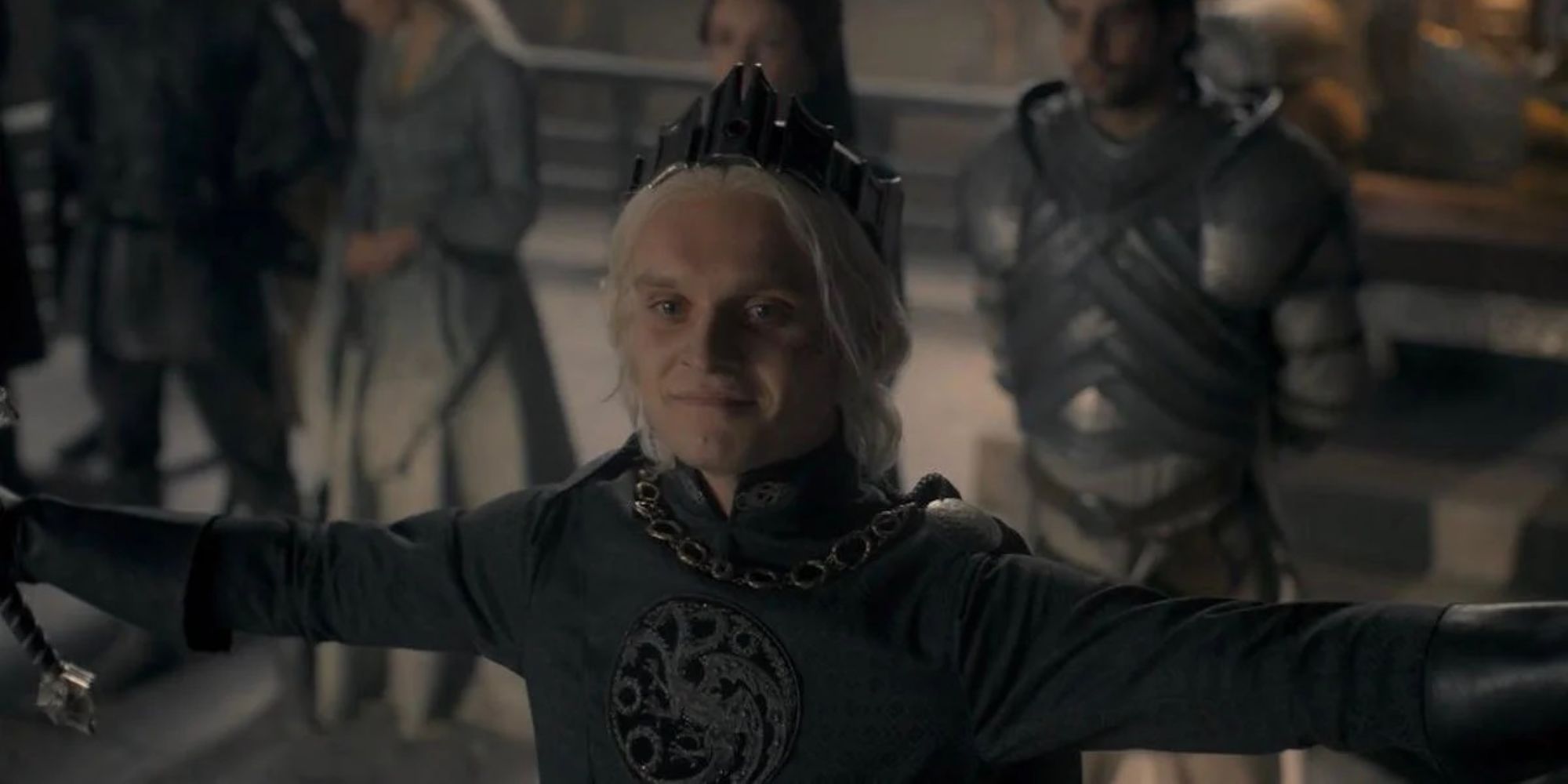 Tensions among House Targaryen would boil over soon after these remarks, with King Viserys dying of medical complications later into the night. His last words, spoken in a delirious state to his wife, Queen Alicent Hightower, led her to believe Viserys had a last-minute change of heart and wished to see his son, Aegon II, installed as King instead of his elder daughter Rhaenyra becoming Queen. With support from Viserys' now-former council, Rhaenyra, her family and loyalists are driven into hiding while Aegon is proclaimed the new King of Westeros, much to his dismay.
Related: House Of The Dragon: Who Is Joffrey Velaryon?
Now, at a point of likely civil war over control of the Iron Throne, Aemond may yet fulfill his wish to see Rhaenyra's bloodline wiped out. In a moment of fevered anger, he lost control of his dragon, the ancient and stubborn Vhagar, and killed Lucerys while he was acting as a messenger, guaranteeing that open war was now the only resolution to this feud over Westeros. Whether Aemond may also slay the elder sibling Jacaerys is yet to be seen, but a confrontation between the two is far from impossible. Fans will have to wait and see if such a battle is to occur, as Season 2 of House of the Dragon is set to begin filming in early 2023, with its debut currently scheduled for 2024. Until then, Aemond's prophetic insult has become cemented as the first drop in a tidal wave of dissension and division in the lands of Westeros.
Next: House Of The Dragon: Who Is Larys Strong
Denial of responsibility! galaxyconcerns is an automatic aggregator around the global media. All the content are available free on Internet. We have just arranged it in one platform for educational purpose only. In each content, the hyperlink to the primary source is specified. All trademarks belong to their rightful owners, all materials to their authors. If you are the owner of the content and do not want us to publish your materials on our website, please contact us by email – [email protected]. The content will be deleted within 24 hours.